Scary-good Scotties terrorize Foothillers again
By Bill Dickens
© East County Sports.com
EL CAJON (10-31-15) — The Helix steamroller rolled over Grossmont in Friday's (Oct. 30) latest battle in the Musket rivalry in front of a full house at the Foothillers' Jack Mashin Stadium.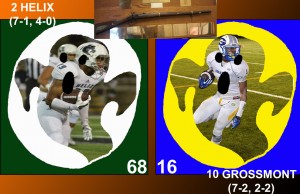 Helix's 68-16 pounding of Grossmont stretched the Highlanders' win streak over the Foothillers to 19 consecutive conquests.
Helix blazed out 662 yards total offense in the latest lop-sided victory over Grossmont.
"We had something like 500 yards and 48 points in the first half," said Helix head coach TROY STARR. "Those are numbers that are hard to argue with."
Helix quarterback MICHAEL AUSTIN completed 11 of 14 aerials for 255 yards and 4 touchdowns. Reserve quarterback CARSON BAKER, a sophomore, clicked on 10 of 14 passes for 145 yards and 2 scores as Helix punched holes in the Grossmont defense.
"We executed our game plan," said Austin. "Grossmont is a good team. We just came out and had a good game. We stuck to what we knew would work."
Ten receivers shared in the Highlanders' receiving brigade, including MEKHI STEVENSON, who caught a pass for 66 yards and a touchdown in the first quarter, RASHAD SCOTT, who caught a 33-yard pass from Austin in the same period.
Running back NATHEN STINSON led the running game for the Highlanders with scoring runs of 56 and 65 yards, the former just 90 seconds into the contest. He finished with 164 yards on 10 carries.
Austin also lobbed a 33-yard scoring pass to ZEKE NOA, and followed with a 1-yard scoring plunge himself.
Grossmont got on the scoreboard in the second quarter when JAELIN BAILEY sprinted 68 yards on a pass from JARED REDFIELD. KHALEED DAVIS ran for the 2-point conversion, and the score stood at 34-8.
SCOTTIE YOUNG would be next recipient of an Austin 35-yard aerial, on which he scored the Highlanders' next touchdown.
Baker hit EVAN PERKINS  with a 57-yard scoring pass, followed shortly thereafter by a short 1-yard pass to JORDAN JACKSON to rack up another TD.
Grossmont struck once more, in the third quarter, as Redfield connected with DOMONIQUE GUEVARA with a 32-yard scoring pass but that would be all the Foothillers could muster.
MATHIAS LAYTON was 8-for-9 on PATs for the Highlanders.
Noa summed it up when he said of the contest, "We treated this like a championship game."