Naseh, Norsemen are nightmare for Cougars
Updated: October 31, 2015
By Jim Lindgren
© East County Sports.com

SPRING VALLEY (10-31-15) — A year ago on Halloween, Valhalla trailed Steele Canyon by 18 points in the second half before a thriller rally resulted in a 1-point win.
On Friday night (Oct. 30) at Steele Canyon – on the eve of All Hallows Eve – the Norsemen would need no tricks to treat themselves to a 28-10 victory over their nearby neighbors in the battle for the Jamacha Helmet.
PHILLIP NASEH, JEROME JOHNSON and RAHSHAUN SHARPE would see to that. The trio combined for all but six yards of a 471-yard performance as the Norsemen scored on four long impressive drives to claim the Jamacha Helmet for the second consecutive year.
Valhalla also got stellar play from its defense and now owns a 7-6-1 record in the regular-season series (Valhalla also won a playoff game over Steele Canyon in 2008).
With the win, the Norsemen improved to 7-2 overall and 3-1 in the Grossmont Hills League, likely securing a first-round bye and then a quarterfinal home game in the Division II playoffs. Steele Canyon fell to 5-4, 2-2 and likely needs help to earn a top-four seed in the Division I playoffs.
Naseh was brilliant, throwing for 248 yards and two touchdowns on 14-of-21 passing without an interception. His strikes went to eight different receivers.
"The offensive line blocked great, so my job was to just drop back, stay in the pocket and wait for the open receiver," said Naseh, who now has 1,403 passing yards and 13 touchdowns. "I really don't have a preference (in receivers). Just make my read and deliver the ball."
After being crushed by Helix in a 42-14 loss last week, Valhalla coach CHARLES BUSSEY was pleased to see Naseh and the Norsemen rebound so soundly.
"He (Naseh) played really well," Bussey said. "The offense stepped it up this week. I liked the running game, too. Jerome and Rahshaun really ran well."
Johnson caught one of Naseh's tosses for a nifty, 20-yard touchdown, but it was his bull-like runs that really stood out. The junior fullback tallied 126 yards on 17 carries to lead all rushers. Sharpe added 77 yards on 11 carries, including a 12-yard touchdown run. Naseh also rushed for a 20-yard score – posturing a bit in the end zone as the Norsemen would wind up with 223 rushing yards to go with 248 through the air.
"It was a good offensive game plan for us today," Bussey said. "Defense played really well, too."
Valhalla allowed only a 35-yard field goal by ALEXANDER RAYA until Steele Canyon scored with 4:42 left to play after trailing by 25.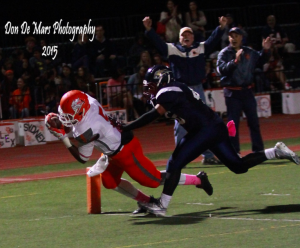 "Defensively, they're really good, man," Steele Canyon coach SCOTT LONGERBONE said. "We just couldn't quite catch any momentum. That's a credit to them. They're really good on defense, and they're offense really came through tonight."
All four of Valhalla's scoring drives went for 80 yards or more as the Norsemen racked up 20 first downs.
To open the game, the Norsemen drove 80 yards in five plays, capped by a 16-yard TD pass from Naseh to NEEVER KRYAKOS. The PAT was blocked by ANTHONY HOWARD. The big play was a 62-yard pass to ANTHONY PORTILLO.
After the Cougars' Raya booted his 35-yard field-goal, Valhalla scored late in the first half on a nine-play, 80-yard drive. Johnson's 20-yard TD catch and a 2-point conversion pass from Naseh to JORDAN ELLIS made it 14-3 at intermission. The big play was a 48-yard pass to CONNOR CHAMBERLAIN.
Late in the third quarter, Valhalla made it 22-3 on Naseh's 20-yard scoring keeper and a 2-point conversion run by Chamberlain, Valhalla's kicker on a planned fake. That drive merely went 87 yards in nine plays, but it was not Valhalla's best. The big play was a 31-yard pass to BRANDON FULLER.
Midway through the final quarter, the Norsemen drove 90 yards in seven plays with Sharpe scoring on a 12-yard run for a 28-3 lead. The big play was a 31-yard run by Johnson.
During a six-game winning streak, Valhalla had allowed only three touchdowns. Its seventh win almost came without a touchdown allowed, but the Cougars finally broke the goal line with 4:42 to play.
THOMAS FISHBURNE completed a 35-yard pass to NY JOHNSON to begin the series. Fishburne then hit PIERRE ALEXANDER for a 27-yard gain, one play before Alexander rushed for a 6-yard score.
Fishburne, a sophomore, did an admiral job of avoiding Valhalla's vaunted sack attack, which had racked up 31 QB takedowns in the first eight games. Fishburne wasn't dropped once, but he was often forced to throw on the run. He completed 10-of-27 passes for 149 yards.
Raya also completed a 28-yard pass to COLTON LARCEVAL on a fake-punt play.
"I've got to give their quarterback credit," Bussey said. "He was able to scramble away a lot."
Alexander caught four balls for Steele Canyon for 39 yards. He also led the Cougars with 47 rushing yards on nine carries. MALCOLM ANDERS had a 47-yard reception to set up Raya's field goal, and he totaled 36 rushing yards on 10 attempts. NY JOHNSON added a 35-yard reception, and he blocked a field-goal attempt to keep the game 6-0 in the first quarter.

DANIEL BENDER blocked a field goal for Valhalla, and JOSH McNISH-HEIDER recovered an onside-kick attempt after the Cougars' only touchdown.
Naseh completed all seven of his second-half passing attempts. He was only 2-of-6 in the first quarter – both completions coming on the opening drive – before going 12-for-15 the rest of the way.
"He's really good," Longerbone said. "He throws the long ball as well as anyone we've played against this year.
"We're very much a bend-don't break defense, but we broke too much tonight."
Steele Canyon got sacks from AZIZ HANNA, AMIR HARRIS, CALEB O'GORMAN and JAMES NERI, plus a fumble recovery by WAYNE BARELA.
Despite those sacks, Valhalla's offensive line was impressive on both runs and passes. JACOB SMITH, RYAN BURKE, JON WASHAM, TYLER EASTLICK and CASEY "The Friendly Ghost" CASPER provided ample rushing lanes for Johnson and Sharpe and plenty of protection for Naseh, who spread things around to eight receivers.
Kryakos had three catches for 30 yards and a TD. Four other Norsemen had two catches: Chamberlain (59 yards), Fuller (39), Johnson (23) and Sharpe (19). Elllis nabbed two balls – one for 16 yards, plus his 2-point conversion. On the second play of the game, Portillo set the tone with a 62-yard grab-and-run.
Helix (7-1, 4-0) clinched at least a share of the Grossmont Hills League title and can wrap it up completely with a win over defending champ El Capitan (2-7, 0-4) next week.
Valhalla (7-2, 3-1) plays host to Grossmont (7-2, 2-2), while Steele Canyon (5-4, 2-2) travels to Mount Miguel (4-5, 1-3).
"My team is pretty resilient," Longerbone said. "We're young. We're learning. And we bounce back."