Coyotes compete at state championships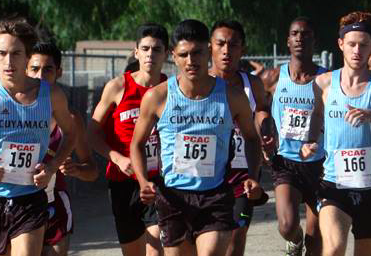 EastCountySports.com staff report
EL CAJON – Cuyamaca College cross country runner Oscar Soto has been selected by the Pacific Coast Athletic Conference as Men's Athlete of the Week.
Soto was co-honored with San Diego Mesa football player Davion Fuller.
Soto, a freshman from El Cajon Valley High School where he also starred in both track & field and soccer, raced to a first-place finish in the conference cross country championships at Southwestern College.
Soto ran 4.0 miles in 20:51 in leading the Coyotes, who outdistanced runner-up San Diego Mesa 21-70, to their first conference cross country title since 1994.
Cuyamaca College men's head coach Tim Seaman said his 15 entrants was the largest group the college has ever had for the event. Of those entrants, 11 placed in the top 15 spots, turning the finish line into a continuous wave of sky-blue jerseys.
Soto, a sophomore, ran a 5:13 pace.
"We all went together, fighting the whole way, pushing each other," said Soto. "This season we have a good group of guys. We're trying to stick together. It's tough in the beginning of the season trying to build that bond, but we kept it working."
Grossmont and Cuyamaca were among the schools represented at the race. Robert Claesson, Grossmont coach, said he was proud of his team, which filtered across the finish in the middle of the pack. 
"We showed up here without our top four runners," he said. "But they all got personal records so that's the way to finish."
The Grossmont Griffins are entirely represented by ladies this year, as the men's team was eliminated due to funding.
"Grossmont district cut our top men's program in the country," said Claesson, adding that the women's team this year is also almost entirely freshman, making it quite a building season for the Griffins. "We're just building our base, trying to get them to come to practice and do their best. That's really the biggest battle."
The Southern California Championship will be on Nov. 6, followed by the State Championship on Nov. 21.