FEARLESS FORECASTER WEEK 11
2015 FEARLESS FORECASTER
Week 11
By Bill Dickens
© East County Sports.com
SANTEE (11-05-15) — The East County football regular season will end in a bowling ball finish Friday night (Nov. 6) when Santana (6-3, 2-1) hosts Granite Hills (8-1, 3-0) for the Grossmont Valley League championship at 7 p.m.
The Sultans will look to quarterback FRANKIE GUTIERREZ (107-166, 1669, 20 TDs) to spearhead their high-scoring offense (40.1 ppg), along with receivers ADAM CHILDRESS (36-586 yds, 9 TDs) and AIDAN RASMUSSON (30-536, 4 TDs), and running back BOBBY WALLACE (129-844, 9 TDs).
"I know we can put points on the board, but it's about our ability to shut down their offense," said Sultans coach TIM ESTES. "Granite Hills has a gigantic offensive line and it's been hard for us to replicate in practice."
Granite Hills has not won a league championship since 1988, which is obviously a goal for this year's crew.
"We'd like to walk away with that," said Eagles coach KELLAN COBBS. "Of course there are the playoffs this year and we like to think we're at least No. 4 in Division II this year."
Eagles quarterback JACOB SIEGFRIED has passed for 42-78 for 5 touchdowns and also rushed for 278 yards and 3 scores. THOMAS YOUMOG will carry the ball for the Eagles offense (109-720, 11 TDs).
Defensive end JACOB BURTON and linebackers RILEY REYES (58 tackles), CAMERON ROJAS (41 TKL) and NOAH JOUBERT (43 TKL) lead the Eagles defense.
A year ago Granite Hills mowed down Santana 54-7. It may be closer this time around, but . . . Granite Hills 34-14.
GROSSMONT (7-2) at VALHALLA (7-2), 7 – On paper this lines up as the Grossmont Hills League game of the night this Friday (Nov. 6).
Both teams play at a championship caliber even though neither team will wear the GHL crown (Helix is in this league, remember?).
"This is a huge game," said Grossmont coach TOM KARLO. "Our kids are focused on Valhalla since it's such a good neighborhood rivalry."
This is kind of a two-fold finale.
"We like to think we could – given everything moving our way – move up in the point rankings," Karlo said.
In other words, Grossmont could wind up in the Open Division or the No. 1 seed in Division I. It's a handsome position to be in for the Foothillers.
Karlo, of course, is focused on the game.
"I think we did a good job of preparing for the Valhalla game, despite the time change, the chilly weather and the rain," Karlo said. "The bottom line is we can't turn the ball over, and I know Valhalla is good at forcing those. We've been good at the big play but need to drive the ball down the field at any opportunity we get."
Both teams are known for their big play offense, with the Foothillers' KHALEED DAVIS (49 catches, 863 yards, 13 touchdowns) leading the charge.
Valhalla coach CHARLES BUSSEY will depend on 6-foot-3, 220-pound defensive end DANIEL BENDER, who is actively being recruited by San Diego State.
The Norsemen's powerful defense includes linebackers LOGAN BAKER, TREY SCHIMKE, LUCAS WALZ and CADE BAKER to put the pressure on the Foothillers.
"Grossmont runs a quick tempo offense," said Bussey. "You have to communicate on point to shut them down."
The Foothillers rolled over the Norsemen 56-21 last year but don't look for a repeat performance . . . Valhalla 32-28.
STEELE CANYON (5-4) at MOUNT MIGUEL (4-5), 7 – This Grossmont Hills League finale is all about point rankings heading into the San Diego Section CIF playoffs.
For visiting Steele Canyon, coach SCOTT LONGERBONE believes the Cougars will be either No. 6 or No. 7 in Division I.
"This big thing is, we'd like get a first round playoff home game," he said. "But this is more about the game against Mount Miguel. Our kids think it's more like a Spring Valley championship since all of them know each other."
The Cougars will count on the running tandem of PIERRE ALEXANDER (87-522, 8 TDs) and MALCOLM ANDERS (111-454, 4 TDs) as well as the passing of THOMAS FISHBURNE (79-181, 1049, 5 TDs) and the receiving of SEAN TODD (24-273, 1 TD).
Steele Canyon's strength is defense led by free safety NY JOHNSON and defensive lineman SEAN MILLER.
"Wherever the ball is, you'll find Ny," said Longerbone. "And Miller is a complete battler."
Mount Miguel counts on its running game led by ANTHONY GILMORE (89-452, 5 TDs) and ANTOINE HAMILTON (73-347, 6 TDs).
"As far as the point rankings, who knows what's gonna happen," said Matadors coach SHAUN McDADE. "We hope to be able to stretch the field. We have a new receiver, RASHAD MOORE, who came to us from Florida. He caught two passes for 70 yards and a touchdown in our last game."
Steele Canyon knocked off Mount Miguel 34-20 last year but will be hard pressed to match that effort . . . Steele Canyon 24-12.
SCRIPPS RANCH (3-6) at CHRISTIAN (7-2) at Granite Hills, 7 – The Christian High Patriots have captured the San Diego Section Division III championships the last two seasons.
That won't happen this year, as the Patriots will be shooting for the Division II flag. They will close the regular season with a key San Diego City Conference crossover encounter with the Falcons at Granite Hills High.
This duel features some interesting comparison scores. Scripps Ranch knocked off Hoover 34-27 earlier this year in overtime. The Patriots muzzled the Cardinals 52-14.
In a previous crossover match-up La Jolla trounced Christian 41-19, and Scripps Ranch knocked off La Jolla 28-19.
"We were pretty beat up going into that game," said Christian offensive coordinator DAVID BEEZER. "And it showed."
That has changed.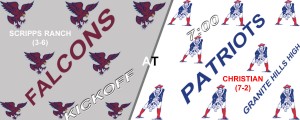 "We're healthy and probably had the best practice we've had all season," Beezer said.
The Patriots, led by East County's passing leader DAVID TODD JEREMIAH (138-228, 2265 yds, 23 TDs), is toiling toward a No. 7 seed in Division II if they can ground the Falcons. Patriots receiver NICK SEXTON shares the East County receiving lead with 49 catches, 1107 yards and 11 touchdowns.
"Scripps Ranch is a large school with good size and speed," said Beezer. "Fortunately, we're peaking at the right time." . . . Christian 28-21.
EL CAJON VALLEY (5-4) at CORONADO (5-4), 7 – Both teams are scrambling for an above-.500 finish and an enhanced position in their respective divisions in the playoffs, and will finish the regular season with a non-league game on Friday (Nov. 6).
The Braves are geared up to find the endzone for the first time in three weeks after suffering back-to-back shutouts to Santana and Granite Hills.
"Our line has been decimated by a series of problems including eligibility and injuries," said El Cajon Valley coach PARRIS PISIONA. "For those reasons we're down to about 24 guys on the varsity."
El Cajon Valley has three blue-chippers including East County rushing leader NATHAN McCULLOUGH (163 carries, 1351 yards, 15 TDs), and the SMITH brothers – CHARLES and TYSON – who have combined for 289 yards and 4 touchdowns while dividing quarterbacking chores.
"Coronado looks hungry," said Pisiona. "But I think this is going to be a competitive game."
The Islanders run a four-wide spread and jet motion, led by running back Christopher Haas (170-1295 yds, 18 TDs).
These two teams have not collided since 1998, having posted 3 wins apiece and a tie . . . Coronado 27-24.
WEST HILLS (4-5) at MONTE VISTA (3-6), 7 – This is another game in which both squads will be scrambling for playoff positions in Friday night's (Nov. 6) Grossmont Valley League finale in Spring Valley.
It will be Senior Night at Monte Vista and that will be a telltale of the Monarchs' season.
"We only have eight seniors," said Monarchs coach RON HAMAMOTO. "I guess that's good and bad at the same time."
In terms of the playoffs the Monarchs believe they'll be the No. 10 seed in Division IV.
"Our kids don't look at the numbers," said Hamamoto. "They just go out and play."
Monte Vista has received a spark from 5-foot-3, 135 pound quarterback RASHAUN WILLIS BROWN, who has managed to provide his team with a running game.
"Even though we've been struggling, the main thing is we've been getting a lot of practice time for our young kids for next year," Hamamoto noted.
West Hills has beaten the Monarchs the last two years, including 21-14 last season.
"Our power ranking is pretty high," said West Hills coach CASEY ASH. "It will be something between 8 and 9 depending on how everything goes, according to Hoyle.
"Looking at this game we can always count on (quarterback SPENCER) MOYER to be a sure bet, so if we can get our record to 5-5 and win a playoff game, I'd say our season has been a success."
West Hills has won two of the last three meetings and a hat trick is in order . . . West Hills 23-13.
EL CAPITAN (2-7) at HELIX (7-1), 7 – Make no mistake – top-ranked Helix has not forgotten the 24-17 defeat handed to them by El Capitan, the winners of the Grossmont Hills League, the Southern California titlists and state runner-up in 2014.
The Vaqueros finished the season 14-1 a year ago but have stumbled to a 2-7 record, counting a forfeit from Mater Dei Catholic.
The Highlanders barged into the regular season finale averaging 40 points per game behind the passing of quarterback MICHAEL AUSTIN (76-118, 1125 yds, 12 TDs) and the rushing of hard-nosed NATHEN STINSON (112-1079, 21 TDs).
Highlanders receiver SCOTTIE YOUNG, who also doubles on defense, has caught 22 passes for 239 yards and 2 touchdowns while MEKHI STEVENSON has collected 20 passes for 519 yards and 7 touchdowns.
Helix has scored 40 ppg. On the defensive side the Highlanders have allowed only 10.4 points per outing.
It's been a long season for El Capitan, which is scoring at a 6.8 ppg clip . . . Helix 56-7.
MOUNTAIN EMPIRE – Bye
Manzanita League
Fearless Forecaster:
Season: 66-26 (.717)
Last week: 6-1 (.857)