8-man Knights feel rewarded after 5-4 regular season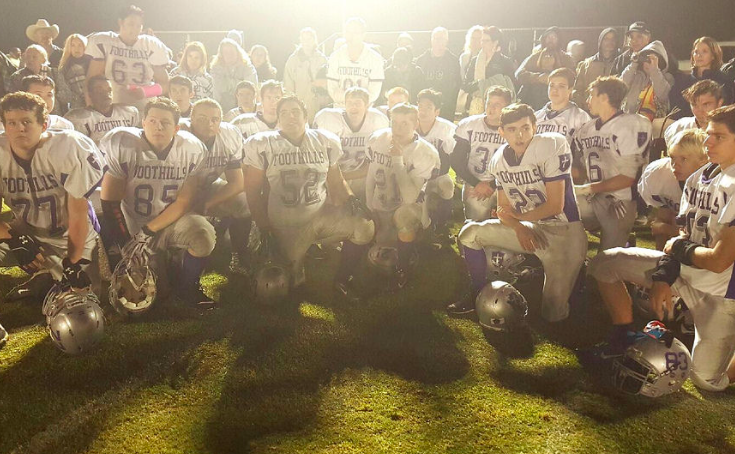 EastCountySports.com staff report
ESCONDIDO – Calvin Christian earned a share of the Ocean League championship be defeating visiting Foothills Christian in a matchup that guaranteed the winner a part of the league title.
Calvin jumped out to a 12-0 lead, but Foothills Christian scored a touchdown to close the early deficit to 12-6, however four-straight scores sent Calvin out to a 36-6 lead.
The Knights' Connor George scored a touchdown and the caught the point-after to make it 36-14.
Following a counter score by Calvin, Daniel Hoffman scored a touchdown and Isaiah Bartolome scored the two-point conversion, his second of the game, to make it 44-22, as the Knights seemed to have a shot to get back in the game.
Calvin Christian added a pair of touchdowns, however, to end all doubt.
Hoffman shrugged off the lingering effects of a knee injury to pass for 263 yards on 18-of-25, including pair of touchdowns with no interceptions. George caught seven targets for 167 yards, while Nathan Hamilton, Nick Rupa and Matthew Aragon all had three catches.
Aragon also added a touchdown reception from Hoffman.
Hamilton had 15 tackles, nine assists and a forced fumble to lead the Knights' defensively, while Aragon wrapped up 5 tackles and 11 assists. Pupa had a sack for the Knights.
FCHS finished 2-2 in league play and 5-4 overall for the regular season. The Knights finished the regular season seventh in the San Diego CIF 8-man power rankings out of the 12 teams.