Braves' defense strong, offense stranded on Coronado
Updated: November 7, 2015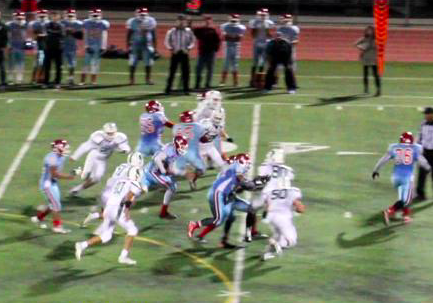 By Chris Davis
© East County Sports.com
CORONADO (11-7-15) — When both teams have the same record, and the all-time series is tied, you expect a close game.  Well, the game certainly did not disappoint that thought process.
The Coronado Islanders (6-4) won the game 20-7 over the El Cajon Valley Braves (5-5) who will look for some help if they want to make the CIF Division IV playoffs.  Those playoff match-ups will be announced later today at the CIF Hall of Champions offices in Balboa Park.
The Islanders got on the board first when NATHAN McCULLOUGH fumbled his second rushing attempt of the night and Coronado picked up the ball at the 45 yard line and took it to the house for a 7-0 lead.
In the second quarter, El Cajon Valley's TYSON SMITH (10 carries for 50 yards and a touchdown) kept the ball on a read option and found a hole and took it 42 yards to paydirt and a tie score.
Coronado went back in front for good with a CHRIS HAAS 7-yard run in the second quarter to make it 14-7.  The touchdown came one play after ECV was flagged for a roughing the kicker penalty.  It would be more appropriate to call it roughing the holder as it was the holder that got hit.
Scoring went on an extended halftime break as no one scored in the third quarter.
Coronado went to the air for the final scoring play for 30 yards, but the extra point was blocked to make it 20-7.
McCullough ended up with 61 yards on 17 carries.  CHARLES SMITH rushed for 52 yards on only six carries.
Defensively, FAAMAMA LAUIFI was chief amongst the Braves with 14 tackles (2.5 for loss).  OMAR GARCIA also reached double figures with 10.  McCullough also chipped in seven tackles on the night.