Not much movement in final regular season poll
Updated: November 9, 2015
By Chris Davis
© East County Sports.com
SAN DIEGO (11-9-15) — MISSION HILLS started the season as the number two team in the county, 16 first place votes behind HELIX.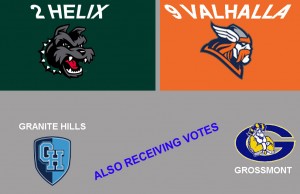 The Grizzlies finish the regular season with 15 first place votes, with the Highlanders in second with nine.  SAINT AUGUSTINE is closing the gap as the 24 sportswriters and sportscasters that make up the voting panel believe there are three teams in the upper echelon in the county.
MADISON stays in the fourth spot as did the entire top eight teams with the only movement being with point totals.  RANCHO BERNARDO, CATHEDRAL CATHOLIC, CARLSBAD and LA COSTA CANYON make up the rest of the group that stayed pat.
Moving into the ninth spot are the NORSEMEN of Valhalla who moved up from the de-facto 13th spot a week ago.  Also, moving up from the receiving votes group to round out the official top 10 is MATER DEI CATHOLIC.
East County schools that are receiving votes include GRANITE HILLS (12th in total votes) and GROSSMONT (18th in voting ranks).
All of the East County ranked teams have byes in the first weekend of the playoffs.
The next poll will be released after the San Diego Section championships.
SAN DIEGO UNION-TRIBUNE SPORTSWRITERS/SPORTSCASTERS PREP FOOTBALL POLL
FINAL REGULAR SEASON
Rank/Team/Record/Points/Last Week
First-place votes in parenthesis
Mission Hills (15) / 10-0 / 230 / 1
Helix (9) / 8-1 / 222 / 2
St. Augustine / 8-2 / 216 / 3
Madison / 8-2 / 135 / 4
Rancho Bernardo / 8-2 / 118 / 5
Cathedral Catholic / 6-4 / 114 / 6
Carlsbad / 7-3 / 83 / 7
La Costa Canyon / 7- 3 / 68 / 8
Valhalla / 8-2 / 31 / NR
Mater Dei Catholic / 9-1* / 28 / NR
Others receiving votes: Bonita Vista (24 points, 8-2), Granite Hills (19 points, 9-1), Oceanside (12 points, 6-4), Eastlake (12 points, 5-5), Westview (8 points, 7-3), San Marcos (7 points, 7-3), Santa Fe Christian (4 points, 9-1), Grossmont (2 points, 7-3), Point Loma (2 points, 7-3), Mission Bay (2 points, 8-2).
* Mater Dei's record includes a forfeit loss
24 sportswriters, sportscasters and CIF representatives from throughout the county vote in the weekly poll. This year's panel includes: John Maffei (San Diego Union-Tribune), Steve Brand, Terry Monahan, Don Norcross, Jim Lindgren, Tom Saxe and Rick Hoff San Diego Union-Tribune stringers), Michael Bower (Pomerado News), Bill Dickens and Chris Davis (EastCountySports.com), Steve Dolan (Mountain Country 107.9-FM), John Kentera, Ted Mendenhall and Bob Petinak (The Mighty 1090), Rick Willis and Brandon Stone (KUSI-TV),  Rick Smith (Partletonsports.com), Jerry Schniepp and John Labeta  (CIF San Diego Section office), Bodie DeSilva (sandiegopreps.com), Drew Smith (sdcoastalsports.com), Lisa Lane (San Diego Preps Insider), Raymond Brown (sdfootball.net), R. Pena, C. Smith and M. Allen (MBASports-SDFNL Magazine).