Foothillers' Rutherford newest in line of UCI big men
Updated: November 11, 2015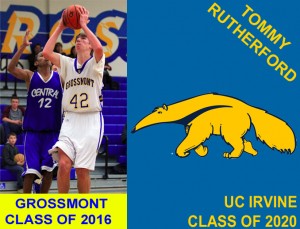 2015-16 EAST COUNTY PREP BOYS BASKETBALL
By Bill Dickens
© EastCountySports.com

EL CAJON (11-12-15) — Six-foot-10 Grossmont High senior TOMMY RUTHERFORD, one of the most sought after basketball players in the San Diego Section, has the skills, the statistics and the demeanor that permitted him to punch his own ticket to the future.
That is, the Foothillers' centerpiece had more than two dozen colleges make offers in an attempt to woo him to their respective campuses. We're talking coast-to-coast.
Rutherford eventually cast his fate with the University of California-Irvine. He made it official Wednesday (Nov. 11) on the National Letter of Intent signing day.
He selected the Anteaters over a field that included Harvard, Cal Poly-San Luis Obispo, Cornell, Lehigh, George Washington University, UC-Santa Barbara and UC-Davis among others.
"The location was a factor," Rutherford said. "I met a lot of good people at all the schools I went to. It came down to UCI and Harvard."
In 25 games last year Rutherford averaged 24.4 points per game, 21.5 rebounds, 2.4 assists and 2.0 steals. Although his blocking statistics were not kept, Rutherford averaged close to 10 rejections per game.
Arguably one of the forces inside the paint, Rutherford also proved he could hit the outside shot, which no doubt attracted the Division I Anteaters' coaching staff.
"This kid is special," said Grossmont High coach FRANK FOGGIANO. "Every single coach that came to one of our practices or games was ready to give him a scholarship after watching him for about 10 minutes."
Foggiano was not surprised that Irvine won the bidding for Rutherford, who carries a 4.67 GPA.
"The Irvine coaches (head coach Russ Turner and assistant coach Nick Booker) did their homework," noted Foggiano. "They really showed they wanted Tommy, and he realized that."