Foothills Christian's Leaf is Bruin-bound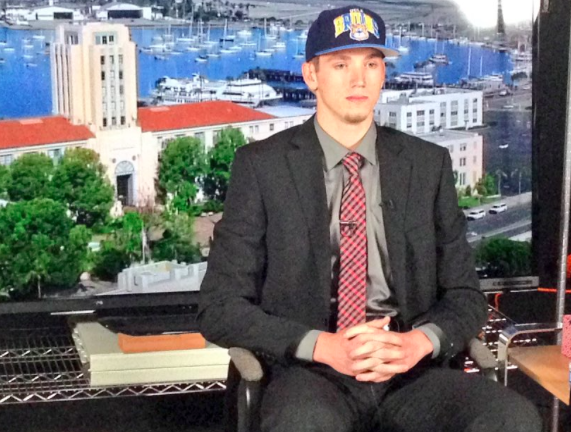 Foothills Christian's T. J. Leaf talks to ESPNU following his announcement on national TV Thursday.
2015-16 EAST COUNTY PREP BOYS BASKETBALL
By James McHugh
© East County Sports.com
SAN DIEGO – (11-12-15) — Foothills Christians' T.J. LEAF will be playing his college ball for one of the most storied programs in NCAA history. This afternoon (Nov.12) the senior standout announced his commitment to the UCLA Bruins program live on ESPNU.
T.J., who is coached by his father Brad Leaf, will be the final Leaf to finish his High School career at Foothills Christian High School in El Cajon when the 2015-2016 seasons comes to a close (Trent 2007, Troy 2010, Talia 2013). Each of the Leafs left a memorable legacy on the Knights' campus in their own way. Those who follow basketball hoops however, see T.J.'s legacy as a beacon of hope that others will take notice that San Diego is turning out top notch talent on the hardwood.
A number of basketball players from around the county signed their National Letters of Intent yesterday including St. Augustine's Eric Monroe (Yale), San Marcos' Johnny McWilliams (Fresno State), Army-Navy's Azis Seck (Northern Arizona) and Grossmont's TOMMY RUTHERFORD (UC Irvine).
The recruitment of Leaf was a spectacle all its own in terms of San Diego Basketball history however. The past year saw Coach Krzyewski of Duke, Billy Donovan who now heads the Oklahoma City Thunder bench and a myriad of other nationally known coaches take trips to the tiny church gym at Foothills Christian Church in El Cajon where the Knights practiced. Trips to the Big House in Michigan and offers from programs like Kansas, Oregon, Louisville and UC Berkeley became the norm over the past year for the youngest Leaf. The most interesting twist of fate of course came when Leaf rescinded a previous commitment to the University of Arizona, opening the floodgates on offers from around the country once again.
Leaf is believed to be an early favorite for a McDonald's All American nomination this season. If selected, he would be the first San Diego Section player on the boys' side since Chase Budinger was named to the 2006 game out of La Costa Canyon. That 2006 class produced some memorable names, Kevin Durant, and Paul George being a few. Many believe that Leaf's rise as a prospect has helped bring attention to the San Diego section that is oft forgotten when conversations about the best players, teams or even regions pop up in basketball circles. Needless to say Leaf's teams have garnered that respect by playing some of the toughest competition year in and year out.
At UCLA Leaf will be joined by a slew of his club-ball teammates from the Compton Magic program. Ike Anigbogu (Corona Centennial), Lonzo Ball (Chino Hills) and Kobe Paras (LA Cathedral) have all given their nods to the Bruin Blue and Gold. Ball is considered the number one point guard in the State of California. Compton Magic Director Etop Udo Ema was on hand along with T.J.'s parents Brad and Karen and his brother Troy for signing day. As soon as the signature was in, Evan Daniels of Scout.Com upgraded UCLA's 2016 class to fifth in the nation.
This season Leaf will lead a Foothills Christian team that returns every player from their Division II Championship last season. The Knights finished ranked #1 in San Diego County and lost a controversial State Open Division game to Etiwanda who Foothills will face in their first game of the season (Dec.1) at Corona Centennial's Battle Zone kickoff tournament. Foothills will likely start the season ranked #1 in the county with tough competition from Saint Augustine who also returns nearly their entire roster from last season and Cathedral Catholic among others.
Just wanted to say thank you to all the schools who have recruited me. Beyond blessed. But officially a Ucla Bruin!

— TJ Leaf (@Tyleaf_22) November 12, 2015