Cougars gash, flash, behind Fishburne's four TD passes
By Bill Dickens
© EastCountySports.com
RANCHO SAN DIEGO (11-14-15 — Known primarily for its steady ground game and strong arm defense, the Steele Canyon Cougars went to the long ball Friday night (Nov. 13) to eliminate Vista 31-20 in the first round of the San Diego CIF Division I playoffs.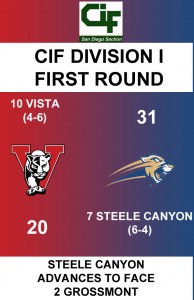 Quarterback THOMAS FISHBURNE hurled scoring passes of 83 yards to NY JOHNSON, 74 yards to SEAN TODD and 24 and 7-yard scoring strikes to PIERRE ALEXANDER to turn a battle of ground forces into the Cougars' 7th win in 11 decisions.
Fishburne finished with 8 completions in 12 throws for 236 yards.
"Teamwork makes the dream work," said sophomore fullback AMIR HARRIS, who logged 3 tackles in the Cougars' conquest. "They came at us so we just had to come out and make plays."
Alexander, a 5-foot-8, 180-pound senior running back, rushed for 71 yards on 10 carries and caught 3 passes for 35 yards and 2 scores.
"Pierre wants to give a shout-out to Pierre," said Alexander, who has a habit of speaking in the third person. "They already knew what we were going to do but they couldn't stop us."
His sidekick, MALCOLM ANDERS, contributed 46 yards on 10 carries.
There are a couple of monikers that fit the Cougars backfield duo: Anders is "Thunder" and Alexander is "Lightning" – also known as "Gash and Flash."
Anders, also known as "Drive Face" due to his hard-nosed running, said: "The bottom line is I like to drive between the tackles."
Outside linebacker MIKEL OLIVER blocked a punt that flew 15 feet into the air and his teammate Harris made the recovery to set up the Cougars go-ahead touchdown scored by Alexander in the second quarter, giving Steele Canyon a 17-10 advantage.
"We have a lot of playmakers and this was just one time when we all came together," said Oliver, who logged 5 tackles. "I came from the outside to block the punt – I was barely touched by the blocker."
Outside linebacker WAYNE BARELA, who notched 6 tackles, noted: "We play all around good defense. My role was to stop the run. They run the dive and option and we were looking for it."
XAVIER LEASAU recovered a fumble for the Cougars, as did AUGUST MANSHEIM.