Patriots' fourth quarter rally sends West Hills packing
By Jim Lindgren
© East CountySports.com
EL CAJON (11-13-15) — A year ago, Christian won its third San Diego Section championship in the last four seasons.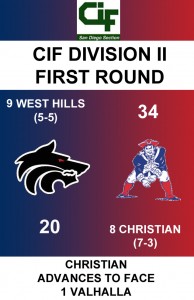 The heroes then were ADRIAN PETTY and JOEY MORONES. Petty had a 67-yard kickoff return touchdown, and Morones recovered a fumble for a loss of 27 yards that led to a Petty rushing TD that helped seal the deal against top-seeded Hoover in the Division III championship at Southwestern College.
Fast forward 11 months: Petty and Morones were at it again.
Petty rushed for 199 yards and scored four touchdowns, and Morones rumbled for a 51-yard score as the Patriots scored 20 unanswered points in the fourth quarter to rally for a 34-20 victory over West Hills in the first round of the Division II playoffs on Friday (Nov. 13) at Valley Stadium.
Morones' highlight touchdown run – coming off a fumbled snap, including five broken tackles and then aided by a pancake block by Petty at the 5-yard line – gave the Patriots a 28-20 lead with 5:12 to play.
On the next play, Petty made a diving interception at the 36-yard line to set up his own 23-yard touchdown scamper that lifted Christian to its eighth consecutive section playoff win.
With back-to-back Division III titles, Christian was moved up to Division II this season, and the No. 8-seeded Patriots (8-3) advanced to meet top-seeded Valhalla (8-2) in the quarterfinals next Friday (Nov. 20).
No. 9 West Hills, which lost to Christian 44-23 in Week 2, finished at 5-6.
"Give credit to West Hills," Christian coach MATT OLIVER said. "They did a great job. Now we get the privilege of facing Valhalla."
Petty had 2,128 rushing yards and 29 touchdowns last year as a transfer from Helix. He was limited this fall by ankle and hamstring injuries but still had 848 yards and eight TDs entering the playoffs.
Early in the second quarter against West Hills, Petty laid on the field for several minutes as trainers attended to what appeared to be another serious leg injury. He lost a shoe on the play but apparently not his drive.
"When he went down, I thought he was going to be done," West Hills coach CASEY ASH said. "You never want to see a guy go down like that, but I thought like maybe he broke his leg."
Petty bounced back, rushed 26 times for 199 yards, including scoring runs of 7, 3, 2 and 23 yards in easily his best performance of the season.
"He hasn't been healthy all season," Christian offensive coordinator DAVID BEEZER said. "When Petty's healthy, he's scary.
"Adrian has never cared about stats. He just wants to win. When he's healthy he has a way of getting our football team going. When he's going, we're going."
Petty gave Christian a 7-3 lead with a 7-yard touchdown in the first quarter. His third score lifted the Patriots to a 21-20 advantage at 7:49 of the fourth quarter. Morones' rumbling run made it 28-20 at 5:12, and Petty's final score came at 3:07.
"It feels really great," Petty said. "We all played as a team, gave it everything we got. It's our last home game, so it feels good to come out with a 'W'."
West Hills put up a great fight. The Wolf Pack took a 3-0 lead with a 43-yard field goal by C.J. ERWIN midway through the first quarter. Christian countered with an 8-play, 67-yard drive capped by Petty's 7-yard TD stroll.
West Hills got another field goal from Erwin, a 39-yarder to make it 7-6 early in the second quarter. Christian countered with an 8-play, 55-yard scoring drive with Petty going in from 3 yards for a 14-6 lead with 0:59 to play before intermission.
Next play, West Hills' SPENCER MOYER hit JUSTIN HANCOCK for a 67-yard reception to the 8-yard line. Next play, Moyer found AUSTIN ESTRADA in the end zone for an 8-yard TD pass to trim the deficit to 14-13 at halftime.
To start the second half, the Wolf Pack drove modestly on their first two drives but also missed on a couple plays that could have affected the outcome.
Early in the fourth quarter, Moyer aired out a perfect, over-the-shoulder touchdown pass to TYLER SEPULVEDA that gave West Hills a 20-14 lead.
"We were a little nervous there in the beginning and then again in the fourth quarter," Oliver said. "It was nice to get those 20 points in the fourth quarter."
In addition to lead-blocking for Petty, Morones rushed seven times for 104 yards.
DAVID TODD JEREMIAH, averaging 252 yards per game, completed 9-of-15 passing for 109 yards without an interception. NICK SEXTON caught six balls for 68 yards and THEO GOODWIN three for 41.
"I thought West Hills did a good job trying to neutralize our passing game," Beezer said. "When teams do that, you have to carry the rock. Adrian and Joey did a great job picking us up. I thought our offensive line did a super job.
"I thought our effort was tremendous. It comes down to the 2 'E's – effort and execution. I thought we did both of those things very well tonight."
"Hats off to West Hills. I thought they played really hard. CASEY ASH does a great job defensively, moving people around and getting guys to make plays."
Moyer finished 13-of-32 for 200 passing yards and two touchdowns. He also rushed for 94 yards on 19 carries.
TAJ BROOMFIELD caught six passes for 71 yards. Hancock had his 67-yard reception, and Sepulveda nabbed two balls for 34 yards.
"I thought we played better on defense than 34 points," Ash said. "I thought our kids played hard, and I'm proud of their effort.
"They're very hard to defend. They've got good athletes all over the field. I thought we played really well for three quarters, and they won the fourth quarter."
Defensively for West Hills, CHRISTIAN RODRIGUEZ had two sacks and CLAYTON LEWIS one. DANIEL ALVAREZ recovered a fumble that led to West Hills' 3-0 lead.
Petty and Sexton both had interceptions for Christian.
The Patriots offense line deserves credit for producing 300 rushing yards. They are seniors TY NICHOLS, NATE CAZARES and COLE LEHTO and juniors AUSTIN MANION and JONATHAN STINE, along with sophomore tight end GARRET NIELSEN.
Beezer, the Patriots' offensive coordinator, won three straight Division IV championships as the head coach in 1993, '94 and '95 before Oliver took over the program in 1999. Oliver lost his first title game in 2001, but has since won titles in 2002, '06, '11, '13 and '14. Along with losses in 2005 and 2007, Oliver is 5-3 in championship games as a head coach and 8-3 overall at Christian, which now has 10 titles in school history, second only to Oceanside's 16 in section history.
This was Christian's third straight victory over West Hills in the past two seasons, and Christian owns the overall series 4-2.
Christian and Valhalla have only played one time, a 34-19 win by Christian in 1995.