Griffins put clamps on tall tourney host Knights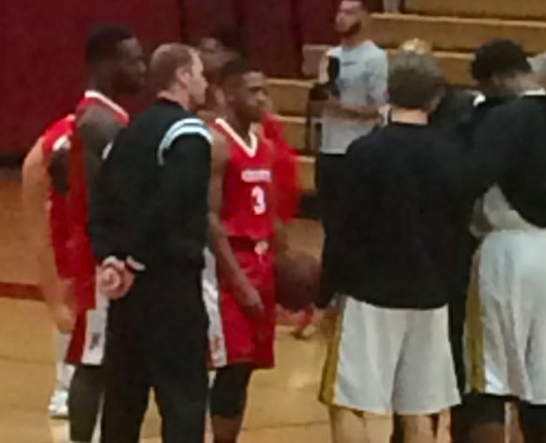 2015-16 COMMUNITY COLLEGE MEN'S BASKETBALL
By Bill Dickens
© EastCountySports.com

SAN DIEGO (11-15-15) — It was not quite a case of David vs. Goliath, but the visiting Grossmont College Griffins were clearly dwarfed by host San Diego City College in the Knights Men's Basketball Invitational.
The tallest player on Grossmont's roster is CORWIN FEERICK, a 6-foot-8 freshman out of University City High.
On the flip side San Diego City has three players measuring 7-feet tall.
The smaller Griffins overcame that height advantage as 6-foot-5 sophomore KAELEN MITCHELL hammered down 21 points in Grossmont's 75-73 tournament victory over the Knights.
"He provides us with a great leadership role," said Griffins assistant coach JOHN CLARK. "Right now he owns it."
Mitchell nailed 7 of 13 shots from the floor, including 4 of 7 three-pointers. He also yanked down 6 rebounds.
"This was a great win for our program," said Clark. "City's three bigs combined for only 16 points. That's impressive."
Clark credited DANIEL McCOWN (11 pts, 3 reb), 6-foot-6 SPENCER VERING (8 pts, 4 reb) and Feerick (7 pts, 5 reb) for putting the brakes on the SDCC giants.
San Diego City got 31 points from guard Taylor Nelson, with 26 of those points coming in the first half when Grossmont built a 46-42 lead.
"The game came down to the last three or four possessions," Clark said. "And we got the edge."
Grossmont will play for the tournament championship against the winner of Mt. San Jacinto and Citrus, Sunday (Nov. 15) at 5 p.m. in Harry West Gymnasium.
Grossmont at San Diego CC
@ San Diego, Calif.
11/14/2015 at 5:00 PM
| FINAL | 1 | 2 | T |
| --- | --- | --- | --- |
| Grossmont (3-2) |  46 |  29 |  75 |
| San Diego (2-1) |  42 |  31 |  73 |
Grossmont

#
STARTERS
MIN
FGM-A
3PM-A
FTM-A
OREB
DREB
REB
AST
STL
BLK
TO
PF
PTS
22

Daniel McCown

30
3-8
1-4
4-4
0
3
3
1
1
0
2
0
11
24

Luke Jackson

29
1-3
0-1
1-2
1
4
5
1
1
0
0
2
3
30

Remy Lawyer

22
3-6
0-1
2-3
1
3
4
2
1
0
2
3
8
33

Kaelen Mitchell

35
7-13
4-7
3-3
2
4
6
1
0
0
2
3
21
44

Spencer Vering

27
2-12
2-3
2-2
1
2
3
0
0
0
0
2
8
#
RESERVES
MIN
FGM-A
3PM-A
FTM-A
OREB
DREB
REB
AST
STL
BLK
TO
PF
PTS
10

Larry Stokes

3
0-0
0-0
0-0
0
0
0
0
0
0
0
0
0
11

Ervin Shepherd

8
2-2
2-2
2-2
0
0
0
0
0
0
1
2
8
12

Marcos Meza

17
1-2
0-1
1-2
0
2
2
4
2
0
1
5
3
20

Dominique Walker

10
0-0
0-0
5-6
0
1
1
0
0
0
0
2
5
40

LeAndre Powell

4
0-1
0-1
1-2
0
3
3
0
0
0
4
1
1
42

Corwin Feerick

15
3-7
1-3
0-0
1
4
5
0
1
0
0
2
7
TM

TEAM

3
1
4
1
0
TOTALS
22-54
40.7%
10-23
43.5%
21-26
80.8%
9
27
36
9
6
0
13
22
75
GROSSMONT
TEAM STATISTICS
SAN DIEGO
40.7% ( 22-54)
Field Goal %
46.7% ( 28-60)
43.5% ( 10-23)
3pt Field Goal %
50.0% ( 7-14)
80.8% ( 21-26)
Free Throw %
45.5% ( 10-22)
36
Rebounds
39
9
Assists
16
13
Turnovers
14
19
Points off Turnovers
11
7
2nd Chance Points
6
16
Points in the Paint
28
0
Fastbreak Points
6
24
Bench Points
12
6
Largest Lead
8
1st-02:11
Time of Largest Lead
1st-14:08
Ties: 10; Lead Changes: 19
OTHER INFORMATION
Technical fouls: 

Grossmont-None ; San Diego-None .


Officials: 

John Reid, Jared Deneen, Tyler Painter


Time: 

5:00 PM