Mitchell is early season tour de force in Griffs' tourney win
Updated: November 14, 2015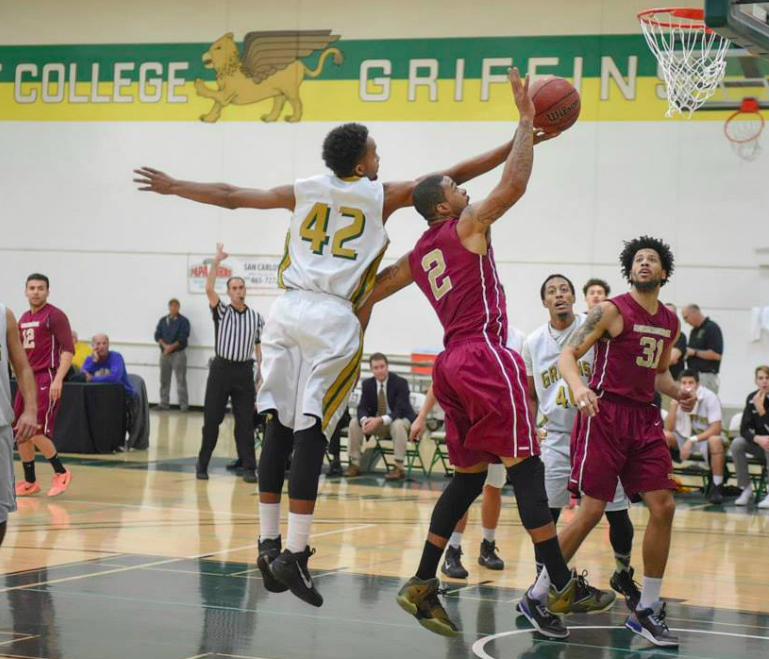 2015-16 COMMUNITY COLLEGE MEN'S BASKETBALL
By Bill Dickens
© EastCountySports.com
SAN DIEGO (11-12-15) – Helix graduate KAELEN MITCHELL continued his torrid scoring with a career high 27 points as Grossmont College edged Barstow 71-68 in Friday's (Nov. 13) opening round of the San Diego City College Knights Invitational.
Mitchell nailed 10 of 16 shots from the field, including 5 of 9 from 3-point range. He also bagged 6 rebounds and handed out 2 assists.
"Kaelen is not (succeeding) by coincidence," said Griffins assistant coach JOHN CLARK. "He puts in extra work every day, and it has paid off."
The Griffins (2-2) stormed in front of the Barstow Vikings by 20 points early in the first half, but were tied at 34-34 at intermission.
Grossmont regained its footing in the second stanza. SPENCER VERING pitched in 8 points and 7 rebounds for the Griffins. REMY LAWYER did not miss a shot as he scored 6 points to go along with 6 rebounds and 5 assists.
Sophomore point guard MARCOS MEZA returned to the team and generated 4 points, 7 assists and 4 rebounds.
"It's awesome when you get production across the board," Clark said. "It's comforting knowing that we have guys that can step in at the drop of the hat and fit into the rhythm when need be."
Grossmont will continue tournament action when they meet host San Diego City College on Saturday (Nov. 14) at 5 p.m.