Griffins' McDonald, Letuli are tabbed all-conference
Updated: November 27, 2015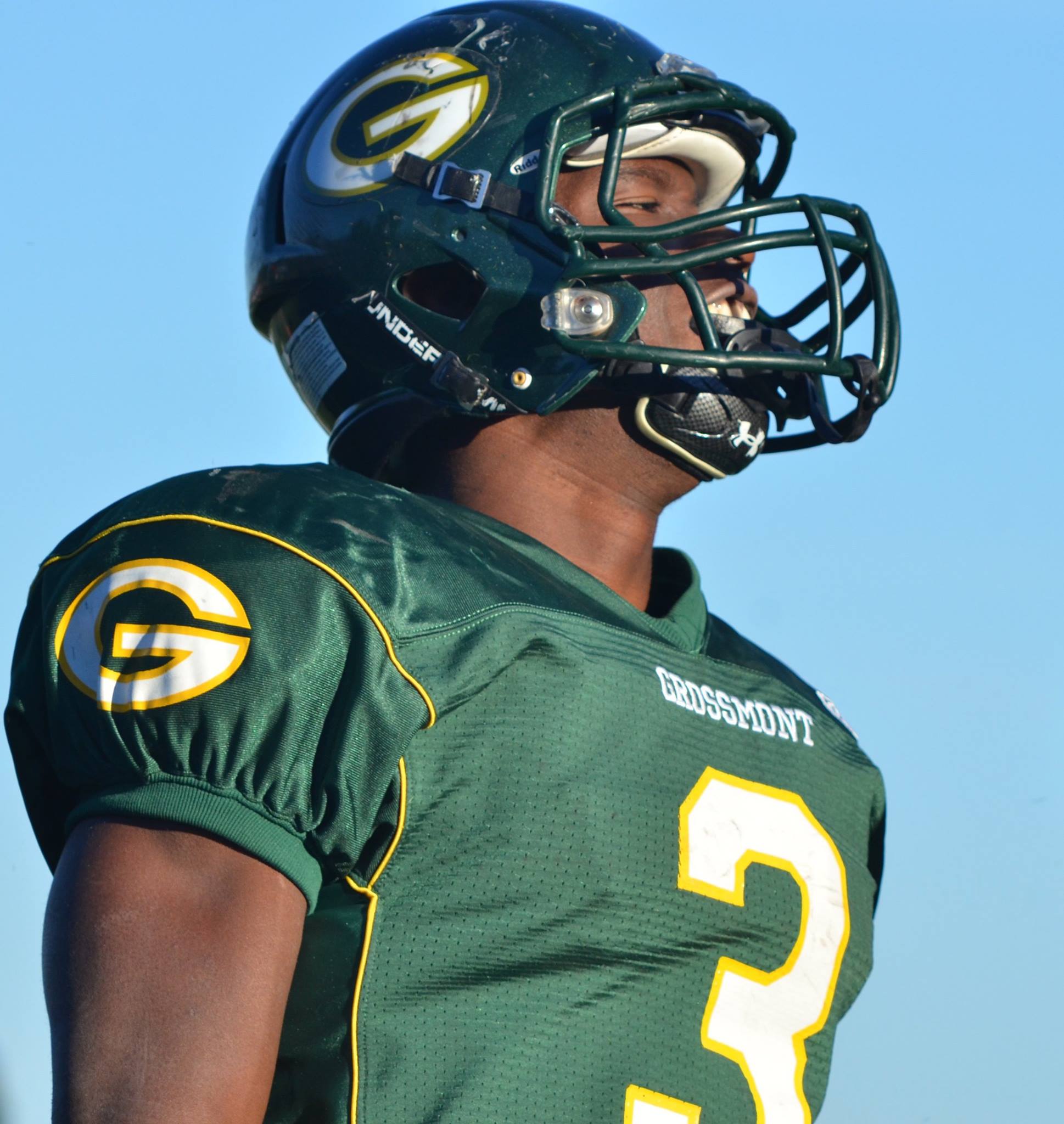 GROSSMONT COLLEGE RB THOMAS McDONALD
2015 GROSSMONT COLLEGE FOOTBALL
By Bill Dickens
© EastCountySports.com
EL CAJON (11-29-15 Rev.) — Ten players from the 2015 Grossmont College football team have been named to the All-Southern California Football Association National Southern Conference team.
First team offense honors went to running back THOMAS McDONALD and offensive lineman JOVANN LETULI.
Receiving second team offense honors were tight end LEVI BOYD, wide receiver-punt returner PAUL GOODEN and all-purpose performer CHRISTIAN BROOKS.
On the defensive side a sophomore linebacker tackling machine NICK GALATIS, defensive end JORDAN ARNOLD, corner MAURICE CARNELL, kick return specialist NEHEMIAH BROWN and punter ALEX TEMPLETON.
All but Brown are sophomores.
McDonald (5-10, 190) was the Griffins' leading rusher with 622 yards and 5 touchdowns on 96 carries.  Letuli at 6-foot-5, 315-pounds is the second largest lineman on the 16-man SCFA first team.
Versatile Gooden (5-11, 170) generated 611 yards and 5 touchdowns on 60 plays that included rushing, receiving and returns. Boyd, a physical 6-5, 230-pound tight end, was a superb blocker with 261 yards of receptions and returns.
Brooks, a product of Grossmont High, was the Griffins' leading receiver with 41 catches for 438 yards for a 10.7 average. He also delivered three halfback passes for touchdowns, and averaged 26.4 on 16 kickoff returns.
Valhalla alum Brown returned five kickoffs for a 46.2 average.
Galatis averaged 10.1 tackles, which was second highest in the conference, 5 sacks, a fumble and an interception.
Arnold had 38 tackles, 11 for loss, a fumble recovery and 5 sacks.
Carnell was regarded as a blue-chip cover corner by the various scouts that visited the Grossmont College campus this season.
Poway product Templeton is viewed as a potential Division I punter who averaged 40.4 on 60 punts for the Griffins.