Griffins outgain OCC, allow 52 points in season-ending loss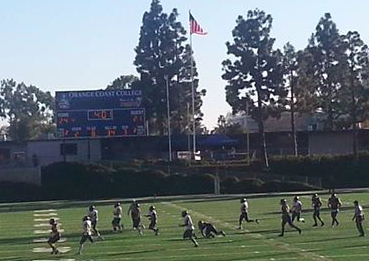 2015 GROSSMONT COLLEGE FOOTBALL
By Bill Dickens
© East County Sports.com
COSTA MESA (11-15-15) — A disappointing season came to a conclusion for Grossmont College, which fell to Orange Coast 52-21 in Saturday's (Nov. 14) regular season finale of the National Southern League, played at LeBard Stadium.

It was the type of frustrating encounter that the Griffins have experienced more often than not this year as they outgained Orange Coast 442 to 407 in total yards.
By an unfavorable comparison, the Griffins gave up 35 more points to the Pirates, which made for a lop-sided finish. Four turnovers – including a 95-yard interception return for a touchdown and a 30-yard fumble return for a TD by the Pirates – negated several solid Griffin drives throughout the afternoon.
Grossmont trimmed the lead 24-7 before halftime, then picked up two more touchdowns in a three-minute span of the third quarter to make it 24-21. SERGIO BAILEY, who finished with five catches for 103 yards, hauled in both TD tosses of 24 and 41 yards to bring the Griffins back into the game.
The latter TD came on a halfback pass from slotback CHRISTIAN BROOKS. It was his third touchdown strike of the season.
Bailey finished the campaign with a team high five touchdown receptions.
The Griffins trailed 24-0 before receiver PAUL GOODEN put Grossmont on the board with a 7-yard scoring pass from TOMMY PISTONE. That bullseye completed a 14-play drive covering 80 yards. Gooden caught 3 passes for 54 yards on the afternoon and finished the year with 4 touchdown passes.
Gooden capped another strong outing by reeling in a 2-point conversion pass from MICHAEL CARRILLO.
On the defensive side Grossmont played without several players including linebacker NICK GALATIS, who ranks among the state's top tackle leaders.
Grossmont passers Pistone (14-29, 143 yds, 1 TD) and Carrillo (6-12, 86 yds, 1 TD) shared the quarterbacking chores in the finale.
Grossmont wrapped up the season with a 3-7 mark, while Orange Coast improved to 7-3 and is in line for a post-season bowl game. The bowl games will be announced on Sunday (Nov. 16).
SCORING
1
2
3
4
FINAL
Grossmont (3-7)
0
 7
 14
 0
 21
Orange Coast (7-3)
17
 7
 14
 14
 52
Orange Coast College | LeBard Stadium
P
T
SCORING SUMMARY
GRO- OCC
1
12:09
Orange Coast – Durham,Marcus 42 yd pass from Dossey,Mason. (Bjurman,Dan kick is good).
Drive: 6 plays, 66 yards in 2:51.
0 – 7
1
09:34
Orange Coast – Jackson,Joseph 30 yd fumble return. (Bjurman,Dan kick is good).
0 – 14
1
02:24
Orange Coast – Bjurman,Dan 44 yd field goal.
Drive: 11 plays, 57 yards in 5:00.
0 – 17
2
13:07
Orange Coast – Watts,Darrel 6 yd pass from Dossey,Mason. (Bjurman,Dan kick is good).
Drive: 9 plays, 57 yards in 2:43.
0 – 24
2
06:07
Grossmont – Paul Gooden 7 yd pass from Tommy Pistone. (Jordan Reece kick is good).
Drive: 14 plays, 80 yards in 6:54.
7 – 24
3
09:39
Grossmont – Sergio Bailey 24 yd pass from M. Carrillo. (2pt conversion rush by TEAM failed).
Drive: 5 plays, 80 yards in 1:57.
13 – 24
3
06:28
Grossmont – Sergio Bailey 41 yd pass from C. Brooks. (2pt conversion pass by Paul Gooden is good).
Drive: 3 plays, 53 yards in 1:18.
21 – 24
3
01:33
Orange Coast – Coley,Treavon 5 yd pass from Dossey,Mason. (Bjurman,Dan kick is good).
Drive: 12 plays, 68 yards in 4:47.
21 – 31
3
00:31
Orange Coast – Dossey,Mason 30 yd run. (Bjurman,Dan kick is good).
Drive: 1 plays, 30 yards in 0:07.
21 – 38
4
11:25
Orange Coast – Jackson,Joseph 95 yd interception return. (Bjurman,Dan kick is good).
21 – 45
4
04:02
Orange Coast – White,Kyle 2 yd run. (Shenk,Jonathan kick is good).
Drive: 11 plays, 84 yards in 6:27.
21 – 52
GROSSMONT
STATISTICS
ORANGE COAST
23
FIRST DOWNS
26
12
9
2
Passing
Rushing
Penalty
14
10
2
50% (7 of 14)
THIRD DOWN EFFICIENCY
57% (8 of 14)
50% (1 of 2)
FOURTH DOWN EFFICIENCY
100% (2 of 2)
442
TOTAL OFFENSE
407
73
6.1
Total Offensive Plays
Average gain per play
72
5.7
270
NET YARDS PASSING
264
21-42
6.4
0-0
3
Completions-Attempts
Net yards per pass play
Sacked: Number-Yards
Had intercepted
27-38
6.9
1-8
1
172
NET YARDS RUSHING
143
31
5.5
Rushing Attempts
Average gain per rush
34
4.2
4-133
PUNTS: Number-Yards
3-106
33.3
Average
35.3
91
TOTAL RETURN YARDS
150
1–2
5-93
1-0
Punt Returns: Number-Yards
Kickoff Returns: Number-Yards
Interception Returns: Number-Yards
0 0
3-44
3-106
9-69
PENALTIES: Number-Yards
7-75
1-1
FUMBLES: Number-Lost
0-0
1-8
SACKS: Number-Yards
0 0
1-0
INTERCEPTIONS: Number-Yards
3-106
26:43
TIME OF POSSESSION
33:17
Grossmont

Orange Coast

| PUNTING | NO | YDS | AVG | LG | TB | -20 |
| --- | --- | --- | --- | --- | --- | --- |
| Matt Stewart | 2 | 85 | 42.5 | 54 | 0 | 1 |
| TEAM | 1 | 21 | 21.0 | 21 | 0 | 0 |

| PUNT RETURNS | NO | YDS | AVG | LG | TD |
| --- | --- | --- | --- | --- | --- |

| INTERCEPTION RETURNS | NO | YDS | AVG | LG | TD |
| --- | --- | --- | --- | --- | --- |
| Miles Steed | 1 | 0 | 0.0 | 0 | 0 |
OTHER INFORMATION
Location: Orange Coast College
Stadium: LeBard Stadium
Attendance: 450
Weather: Sunny, Warm
Temperature: 73
Wind: W 5 mph
Referee: Jeff Phillips
Umpire: Jay Drewry
Head Linesman: Greg Covington
Line Judge: Nick Herrera
Back Judge: Tyrone Clark
Field Judge: Brian Mills
Side Judge: Sergio Godinez
Scorekeeper: Tony Altobelli