Seau shines in Nevada loss to SDSU at Qualcomm
Updated: November 29, 2015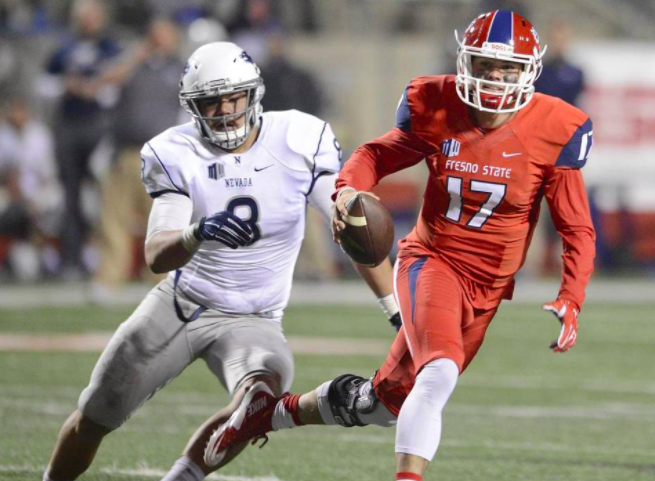 2015  4-YEAR COLLEGE FOOTBALL STANDOUTS
By Bill Dickens
© East County Sports.com
EL CAJON (11-29-15) — Nevada's IAN SEAU made a muscular debut Saturday night (Nov. 28) against San Diego State at Qualcomm Stadium.
It took at least two Aztecs to block the 6-foot-3, 250-pound Seau, who kept the pressure on the Aztecs despite a 31-14 loss.
Seau finished with three jarring tackles, two for losses, but it wasn't enough to hold off the Aztecs.
Seau, a product of Grossmont College, finished the season for the Wolf Pack and has 94 tackles and 17 sacks for his career at Nevada (6-6).
— Boise State 6-foot-4, 329-pound offensive tackle MARIO YAKOO out of Steele Canyon, is rated as high as No. 64 in the 2017 draft class by several of the various professional combines.
— Marshal University defensive end GARY THOMPSON out of Helix High chalked up four solo tackles and delivered two vicious hits on Western Kentucky's quarterback, but the Hilltoppers still skated away with 49-28 victory over the Thundering Herd.
— Arizona State cornerback KWEISHI BROWN saw the University of California direct its offense away from him as the Golden Bears claimed a 48-46 victory.
Brown made two solo tackles and would have had more except Cal showed respect for his glue-like defensive tendencies.
In his two seasons with the Sun Devils Brown tracked 39 tackles, eight pass break-ups and two interceptions in his two seasons since graduating from Grossmont College.
— UNLV dropped a decision to Wyoming 35-28 as Rebels' sophomore wide receiver KENDAL KEYS caught four passes for 44 yards and a touchdown.
His career totals are now an impressive 64 receptions for 825 yards and 8 touchdowns.
— His senior brother KENNY KEYS, also a Helix product playing football at UNLV, had 3 tackles, 2 solos, and has recorded a total of 137 stops and 3 interceptions.
— Valhalla-Grossmont College-BYU receiver NICK KURTZ had trouble breaking free against Utah State as the Cougars crushed the Aggies 57-28. Kurtz had only one catch for 13 yards. For the season the 6-foot-5 Kurtz has 35 catches for 522 yards and 2 touchdowns.
— Helix and Utah State sophomore defensive back JALEN DAVIS had 46 tackles this season. He started all 25 games at corner for the Aggies last season and has chalked up career 111 stops. He made 4 tackles in a 57-28 loss to BYU.
— LONNIE HICKS, a product of Mount Miguel, chalked up 3 tackles, one of them solo, for Humboldt State in a loss to No. 1 seeded Northwest Missouri State. Hicks was named to All-Academic Mountain Conference.
— Helix alum CAMERON LEE of Upper Iowa University reeled in 28 passes for 380 yards this season