Foothills in Zone during notable romp of Etiwanda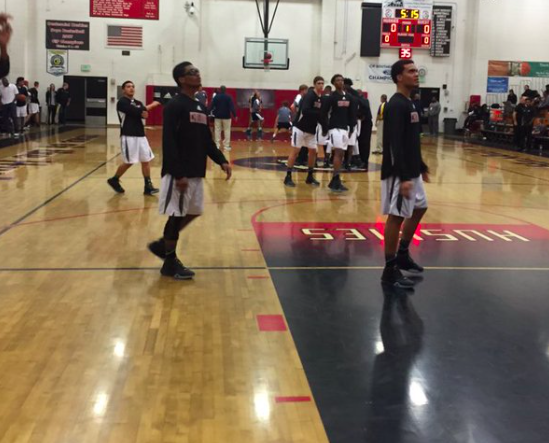 2015-16 EASTCOUNTY PREP BOYS BASKETBALL
By James McHugh 
© East County Sports.com
CORONA (12-1-15) — Last season Foothills Christian nearly managed an upset of Etiwanda in the CIF quarterfinal round of the state's top division. The Knights eventually fell 56-55 and were relegated to spectator for the remainder of the offseason.
On Tuesday night (Dec. 1) Foothills Christian exacted revenge on the Eagles at "The Battle Zone" tournament hosted by Corona Centennial. Not only did the Knights avenge their defeat from last season, they also handed Etiwanda it's most lopsided defeat, 73-44 in more than a decade and scored more points than the Eagles had allowed since an  82-74 overtime loss to Eisenhower on Dec. 4, 2009.
Much like their meeting back in March, T.J. LEAF and NIKKO PARANADA provided most of the offense for the Knights. Leaf finished the night with a monster stat line of 34-points, 12 rebounds, three assists, seven steals and four blocks.
Paranada had 15 points for the Knights. Paranada seems to thrive against the Eagles. In the playoff meeting last season Paranada scored 14-points and dished six assists. He was the only Foothills player in double figures besides Leaf.
Sophomore JORDAN STARR had a huge game for the Knights as well. The young guard is solidifying a starting spot in the senior heavy lineup.
While the offense was working, the Knights defense once again shuttered what was thought to be a high scoring opponent. Head coach BRAD LEAF praised his team's defensive effort simply as "Fantastic"!
Meanwhile, the 6-foot-10 UCLA-bound Leaf moved into a tie for 10th all-time on the CIFSDS rebound list with RBV's Jamahl Mosley at 1,112 career caroms in Monday night's win
Also in Monday's win, LUIS SALGADO passed Chula Vista's Jerome Green for 4th on the SDSCIF three-point shot list with 262. Holmlund of Santa Fe Christian holds the section record of 331.
Foothills Christian will not get any time to gloat over their pounding of Etiwanda however. Wednesday night (Dec. 3) the Knights are slated to take on tournament host and  California's No.5 ranked team in Corona Centennial on the Huskies' home floor. Centennial is led by UCLA signee Ike Anigbogu and Long BeachStatesignee Jordan Griffin. Game time is set for 7:45 pm.