Norsemen make Petco their playground in rout of Red Devils
Updated: December 2, 2015
By Chris Davis
© East County Sports.com
SAN DIEGO (12-2-15) — It was just a typical night for the opening game of the 2015-16 season for the Valhalla Norsemen and Sweetwater Red Devils on Tuesday (Dec. 1).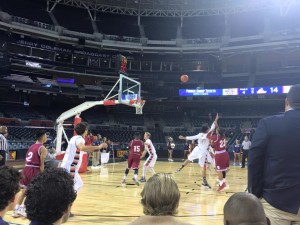 You know, playing outdoors at Petco Park with the corresponding 25-minute weather delay to get moisture off the court and then going on to a running-clock win over Sweetwater, 84-40.  You know the normal stuff.
"It was a weird experience coming down here," head coach KEITH JACKSON said after the contest.  "It was one of those "anything can go" type of games.  I thought the kids played hard, especially a game like this.  You have to play hard, you don't know if the ball is going to bounce.  They rebounded well and everything I asked."
Four Norsemen (1-0) reached double-digits in scoring being led by COLE HENDERSON who put 20 points up along with 11 rebounds, which was more than what the Red Devils (0-1) scored in any single quarter of the game. Joining Henderson in double-digits were JOHN MURAD (17), TREY SCHIMKE (12) and NATHAN YOUSIF (11).
"We're really depending on Cole this year," the coach said.  "He was the leading rebounder and scorer last year and we are looking for him to be a real leader this year."
Henderson made his presence felt early in the game as he scored eight points, including six of eight from the line, in the first quarter –  a quarter that saw the Orange outscore Sweetwater 17-10.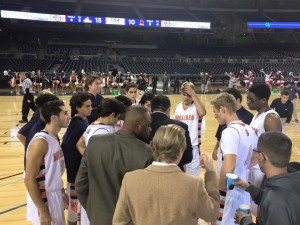 It was the third quarter that the Norsemen pulled away from the Red Devils as they came out from halftime and went on a 20-7 run to add to a 15-point lead that they had at halftime.
The fourth quarter was not the best for the Red Devils either as Valhalla poured in 14 points compared to the four that Sweetwater scored.
The Norsemen will put their perfect record on the line when they take on Mira Mesa Tuesday (Dec. 2) at 6 p.m.
Valhalla:  Cole Henderson 20 (11 reb, 1 blk), John Murad 17 (5 reb, 2 stl, 1 blk), Trey Schimke 12 (3 reb, 1 ast, 4 stl), Nathan Yousif 11 (5 reb, 2 stl), Chris Attiq 5 (4 reb, 2 ast, 1 blk), Jordan Ellis 4 (4 reb, 2 ast, 2 stl)), Danny Bender 4 (7 reb, 1 ast), Ty Schimke 3 (2 reb, 1 ast, 1 blk),  Kai Komaki 2 (4 reb, 2 ast, 1 blk), Matthew Sako 3 (5 reb), Christian White (2 reb), Ivan Habib (2 reb), Malique Shaw 2 (1 reb).