Monarchs impressive in tourney win over host Lancers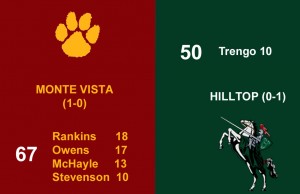 2015-16 EAST COUNTY PREP BOYS BASKETBALL
Chris Davis
© East County Sports.com
CHULA VISTA (12-3-15) — The Monte Vista Monarchs defeated the Hilltop Lancers by a 67-50 score to open the 2015-16 season in a game that was a part of the Hilltop Tournament.
"We played well tonight," head coach MIKE TULLY said after the victory.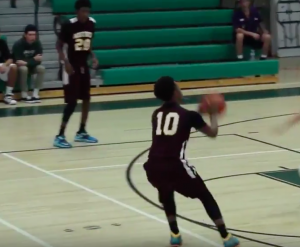 The Monarchs (1-0) didn't lead wire-to-wire, but after two minutes it didn't really matter that Hilltop (0-1) made their first three-point shot of the night and then missed their next seven shots.
Leading the way in the first quarter for the Monarchs was TERRY BONE who scored all of his eight points in the first period.  The second quarter saw DEONDRE McHAYLE chip in five points as the Monarchs only scored 12 points.
Monte Vista had an exceptional third quarter as they poured in 23 points.  Leading the way for the entire second half was BOHANON RANKINS as he scored 14 of his game-high 18 points.  For the game the Monarchs had four players in double figures.
Rankins logged a double-double in the first game of his final season as a Monarch.  To go along with the 18 points, the 6-foot-4 forward also had 12 rebounds.  McHayle, a 6-1 sophomore chipped in 13 points and nine rebounds.
"We played really good defense," Rankins said post-game. "We missed a couple of shots, but we got back on it with our D(efense).  Our team moved really good tonight to allow me to get everyone the ball and they saw me get open for the ball."
Friday (Dec. 4) Monte Vista will play Mission Bay at Hilltop in an early 3 p.m. tip.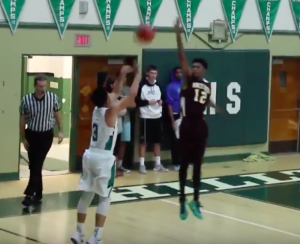 Monte Vista: Bohanon Rankins 18 (12 reb, 2 blk, 3 stl, 1 ast), Tre Owens 17 (4 reb, 3 stl), Deondre McHayle 13 (9 reb, 5 stl, 4 ast, 1 blk), Shai Stevenson 10 (6 reb, 3 ast, 1 blk), Terry Bone 8 (4 reb), Kelton Vun 1 (1 reb), Adrian Bass 0 (2 reb), Donnie Gooden 0 (1 ast), Tre Koita 0 (1 reb, 1 stl).