Tavizon, Loibl lead Cougs to first 2-0 start in four years
Updated: December 3, 2015
2015-16 EAST COUNTY PREP GIRLS BASKETBALL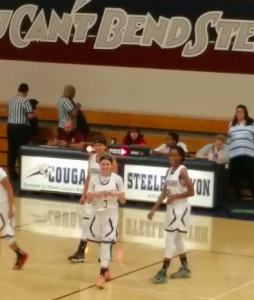 By Bill Dickens
© EastCountySports.com
RANCHO SAN DIEGO (12-4-15) — Steele Canyon got 15 points from ASHLEY TAVIZON and 13 more from JULES LOIBL as the Cougars clubbed visiting Point Loma 43-29 in Thursday's (Dec. 3) non-league encounter.
The two high scorers combined to click on 8 of 9 free throws.
Steele Canyon jumped in front 12-6 and poured on the coal the rest of the way.
"It's the first time in four years that we are 2-0," said Steele Canyon coach PETER RUIZ. "It feels good but it's still early. I'm not counting my chickens before they hatch. We're going in the right direction though."
Steele Canyon:  Ashley Tavizon 15, Jules Loibl 13, Marianna Martinez 10, Elizabeth Bott 2, Mariah Smith 2, Reagan Jordan 1.
CANYON SPRINGS 47, GRANITE HILLS 39 – Perennial state powerhouse Canyon Springs of Moreno Valley toppled Granite Hills in Thursday's (Dec. 3) LJCD Sweet Sixteen Invitational in North County.
"We play the top programs," said Granite Hills coach CURTIS NORWOOD. "We do that because someday we will be a top program ourselves."
Granite Hills will face St. Joseph's Friday (Dec. 4) at LJCD at 4:30.
No statistics reported.
LA COSTA CANYON 41, WEST HILLS 26 – The West Hills Wolf Pack was outscored 10-1 in the third period and 10-6 in the final stanza in a lop-sided loss to La Costa Canyon Thursday's (Dec. 3) Tip-Off Classic in Santee.
West Hills led 13-11 after one quarter but fell behind 21-19 by intermission and then the offense went flat during the final two periods.
"We started off well, jumping out to a 13-11 lead after 1 quarter," said Wolf Pack coach RYAN KINSER. "We fell apart offensively the rest of the game. We were only down two at the half then came out and scored 1 point in the 3rd. We missed way too many lay ups and had way too many turnovers. At least we played well defensively but you can't beat a good team shooting 19 percent from the field."
MEGAN SCOTT led West Hills with 10 points and 7 rebounds.
KERRIE DANIELS also crashed the boards to collect 9 caroms.

West Hills:  Megan Scott 10 (7 reb, 1 ast, 5 stl, 1 blk), Carly Raley 7 (5 reb, 1 blk), Kerrie Daniels 5 (9 reb), Jessica Fondas 2 (4 reb), Maya Clemons 2 (2 reb).
TRI-CITY CHRISTIAN 23, CHRISTIAN 21 – The Christian High Patriots scrambled to a 17-17 tie after three quarters in Thursday's (Dec. 3) Fast Break – Calvin Christian Tournament in North County.
But in the final period TCC edged in front early and held on for the narrow victory.
BROOKE OWENS led the Patriots with 9 points and JASMYN CRAWFORD snagged 8 rebounds – one more than HAYLEY ROBINSON.
Christian will face The Rock Academy Friday (Dec. 4) at Calvin Christian at 4 p.m.
Christian:  Brooke Owens 9 (4 reb, 4 stl, 2 blk), Alyssa Rothrock 6 (5 reb), Jasmyn Crawford 4 (8 reb, 1 ast, 4 stl), Sage Salacup 2 (3 reb, 6 stl), Hayley Robinson (7 reb, 1 stl), Taylor Giese (1 reb).
Mission Hills 71, Helix 22 – No information reported.