Matadors a point shy of Serra in Classic game
Updated: December 5, 2015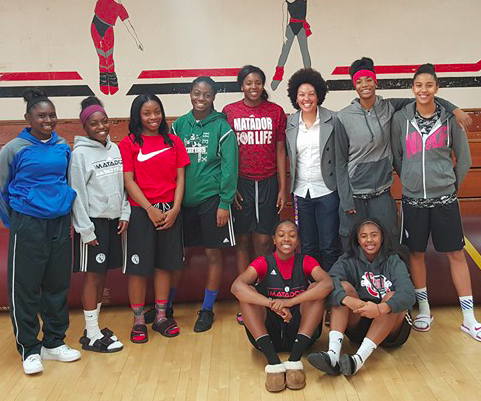 2015-16 EAST COUNTY PREP GIRLS BASKETBALL
By Bill Dickens
© EastCountySports.com
SAN DIEGO (12-5-15) — Mount Miguel held a 29-27 halftime advantage over Serra in Friday's (Dec. 4) Matador Classic in Spring Valley, and played them even with 9 points apiece in the third quarter.
Serra pulled ahead in the fourth quarter with a 3-point edge to escape with the narrow 50-49 victory.
"We were ahead 4 points at least with 2 minutes to go," recalled Matadors coach ROBBIE SANDOVAL. "Three times in a row we were down by 2. LAILA SMITH hit a free throw to bring the score to 50-49. We got the rebound with 0:09 left but couldn't get that last point."
Mount Miguel was led in scoring by AMBER HARD with a double-double of 20 points and 12 rebounds.
CAMARA DOUGLAS also pulled a double-double with 14 points and 10 rebounds for the Matadors.
"I was disappointed that we lost," said Sandoval. "But I see the potential of our team."
Mount Miguel:  Amber Hard 20 (12 reb, 1 stl, 1 blk), Camara Douglas 14 (10 reb), Laila Smith 6 (2 reb, 7 ast, 3 st, 1 blk), Satera Bates 6 (1 reb, 1 ast, 2 stl), Michelle Corley 2 (4 reb, 1 stl), Kiara Morris 1.
GROSSMONT 50, MONTE VISTA 32 – The Grossmont Foothillers trailed 23-18 in the first two quarters of Friday's (Dec. 4) Mustang Tournament contest, but gathered momentum in the final quarters to overcome Monte Vista 50-32.
Monte Vista was strong in the first half, but fell behind in the third quarter, and finished the fourth period with a 5-point effort as the Foothillers barged ahead 22 points in the same quarter.
TAISHA SILAS paced the Foothillers with 19 points, including 3 triples, while freshman ATHENA SOTELO pitched in 13 points and was 5-for-5 from the charity stripe.
"We started off slow, but picked it up in the second half," said Foothillers coach GRACE CAMPBELL. "I'm very proud of my girls for fighting hard and earning the win. Fouls continued to be our kryptonite every year.
"Monte Vista shot 20 free throws in this game (16 in the fourth quarter). Lucky for us they only made 4 out of the 20."
KYRIA WHITLEY and CASSIE CALDERON each lofted 11 points for Monte Vista, helping the Monarchs to a 23-18 advantage at halftime over the Foothillers.
But the surge didn't continue into the second half as the Monarchs fell behind 32-8 in the final two quarters.
"We were ahead at halftime but fell apart in the second half after facing foul trouble," said Monarchs first year coach MEGAN FORBELL. "The first half really showed what we are capable of and we will work on keeping our momentum through the second half.
Grossmont:  Taisha Silas 19 (3 reb, 1 ast, 3 stls), Athena Sotelo 13 (7 reb, 5 ast, 5 stl), Candace Henderson 6 (3 stl), Emily Barnes 4 (8 reb, 2 stl, 2 blk), Symone Griffith 3 (1 ast, 5 stl), Jasmine Lee 3 (2 reb), Tassiana Lee 2 (2 reb).
Monte Vista: Kyria Whitley 11, Cassie Calderon 11, Cierra Ross 5, Mariah Whitehead 3, Sewit Tefamicael 1, Bethany Mudge 1.
ROCK ACADEMY 47, CHRISTIAN 18 – Christian experienced some bad luck in Friday's (Dec. 4) Fast Break – Calvin Christian Tournament game against the Rock Academy, which resulted in two of their strong players leaving the game.
MARISSA GILES reinjured her foot, which had suffered a torn ligament in a volleyball game earlier in the season, so she will be out for the foreseeable future.
BROOKE OWENS collided with an opponent's shoulder bone to cause her to leave the game with a concussion. It is anticipated she will be missing from the lineup for at least a week, possibly more. She did score 5 points for the Patriots before leaving the game.
"We'll have to forfeit to Classical Academy (in a game scheduled for Saturday (Dec. 5)," said Patriots coach TIFFANY GILES. "We don't have enough players to field a team."
Calvin Christian will play Classical Academy in Christian's place in the tourney.
Christian:  Wendy Shen 6 (4 reb), Brook Owens 5, Alyssa Rothrock 4 (3 reb), Hayley Robinson 3 (16 reb), Jasmyn Crawford (9 reb), Sage Salacup (3 reb).
ST. JOSEPH'S def. GRANITE HILLS– No specific details reported.
Granite Hills lost this LJCD Sweet Sixteen Invitational game to St. Joseph's by 10 points, said Eagles coach CURTIS NORWOOD, who noted that the team that Granite Hills was scheduled to play didn't show up.
St. Joseph's, which had just finished playing a game, offered to play the Eagles in a game with 20 minute halves and a running clock, which they did.
"It was disappointing," Curtis understated. "It was more of a scrimmage I think."
EL CAPITAN at HORIZON – No report
Matador Classic
VALHALLA at CALVIN CHRISTIAN – No report
Fast Break – Calvin Christian Tournament