Humble Highlanders confident in championship approach
Updated: December 4, 2015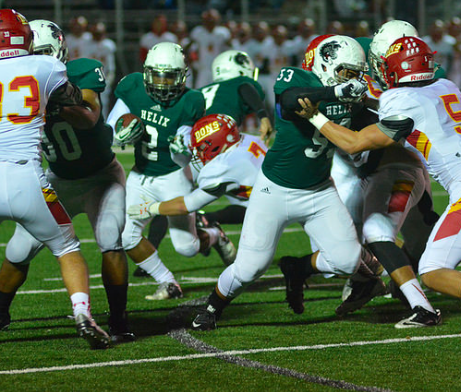 Helix's Nate Stinson runs behind lineman Joseph Sefa Tauanu'u (53). / Photo by Ramon Scott
2015 FEARLESS FORECASTER
SDCIF Playoffs – Finals 
By Bill Dickens
© East County Sports.com

CHULA VISTA (12-4-15) — The Helix Highlanders, who are riding a 10-game winning streak, will face their biggest challenge to date when they face off against St. Augustine in Saturday's (Dec. 5) San Diego Section CIF Open Division final at Southwestern College at 7 p.m.
Helix is ranked No. 8 in the state and No. 50 in the nation with a 10-1 record.
"There's no doubt in my mind that St. Augustine is the best team we've played this year," said Helix coach TROY STARR, who boasts an 82-18-1 record over the last eight seasons as the Highlanders' field general.
"They have a huge offensive line and are good in all three phases of the game," Starr said of the Saints (10-2). "But then so are we."
Helix won the State Championship in 2011 while posting a 13-1 record, defeating Loomis Del Oro 35-24 on December 17 at Carson Field. 
"In my opinion that was the best team in county history," said Starr, who admits he is certain to draw arguments from those with different perspectives. "Like I said, that's my opinion."
"We are confident, yet very humble," Starr added. 
No question the stars of this unit are quarterback MICHAEL AUSTIN, 94 of 167 passes for 1563 yards and 17 TDs, coupled with 391 rushing yards, who averages 389.2 yards ppg, and running back NATHEN STINSON, who dashed for 1468 yards on 163 carries for 28 touchdowns.
Austin's college opportunities include Cal Poly-San Luis Obispo and the majority of the Ivy League colleges. He also plays baseball so the jury is out on the direction he'll go. At the moment though, his focus is on Saturday's football game. 
On the defensive end, ZEKE NOA, who has 73 tackles and 8 sacks, is the kingpin of the Helix defense, which has allowed only 149 points. 
The Helix tackling squad includes TOMMIE YOUNG, Washington State bound MASON VINYARD, FORREST HANLON and JIHAD WOODS.
Running back Elijah Preston spearheads a St. Augustine offense that averages 397 yards per game. From a personal standpoint Preston has rushed for 2089 yards and 28 TDs, including breaking the century mark 11 times. 
Although these teams have not met this season, they are definitely comparable, but the nod here goes to . . . Helix 22-20.
LIVE WEBCAST: twccommunity.com