Highlanders set to go distance after dusting Dons in semis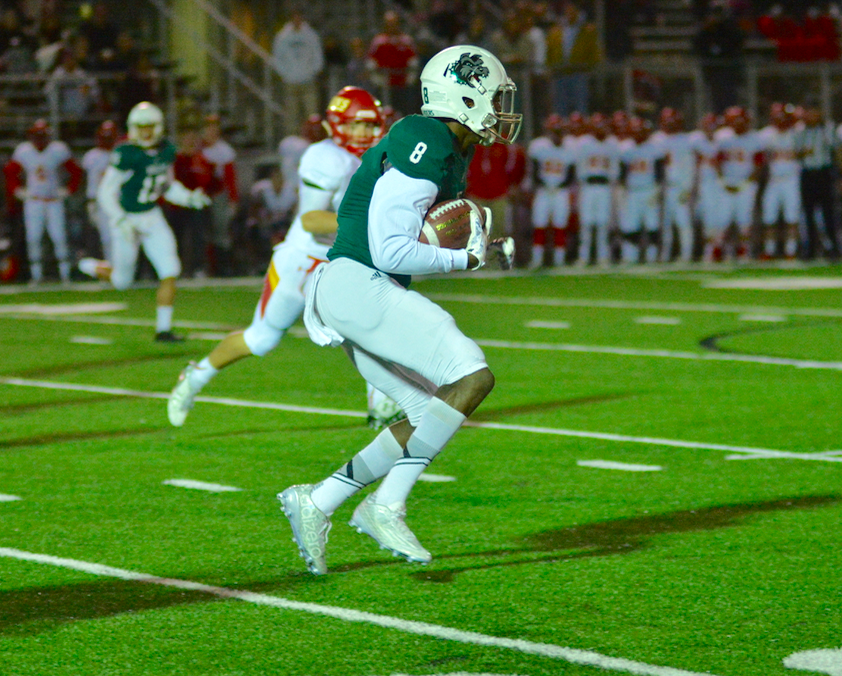 Helix's Mekhi Stevenson makes a reception Friday night against Mt. Carmel at Hart Stadium. / photo by Ramon Scott
2015 EAST COUNTY PREP FOOTBALL
By Bill Dickens
© East County Sports.com
LA MESA (11-28-15) – The arguments have already begun. The Twitter hot line is pitching a dateline with a bevy of comments concerning Helix and St. Augustine, which collide for the San Diego Section Open Division championship on Saturday night (Dec. 5) at Southwestern College at 7 p.m.
Running back NATHEN STINSON blasted for 150 yards on 10 carries including an 80-yard touchdown, helping Helix take a 17-7 first quarter lead in a game the Highlanders went on to win 42-14 over Cathedral Catholic.
Quarterback MICHAEL AUSTIN followed suit with 70 yards on 7 carries, buoyed by a 55-yard run that staked the Highlanders (10-1) to a 7-0 lead. He also completed 10 of 17 passes for 117 yards.
No question Austin has had better days but his leadership was smooth enough to help the Highlanders skate by the Dons.
Helix kicker MATTHIAS LAYTON had one of his better days when he kicked 4 of 4 field goals as well as going 4-for-4 on PATS.
Layton's field goal totals are one shy of the Grossmont Conference game record held by former Helix product SCOTT WEBB, who converted 5 three-pointers in a single contest against Granite Hills in 1982. Layton kicked field goals of 30, 33, 42 and 30 yards against Cathedral.
Once again Helix's defense made a solid stand-up. The Highlanders' attack included three interceptions, one by NICK SOLIZ, another by ZEKE NOA and one by TYLER CLANTON.
Soliz's pick covered 33 yards and extended the Highlanders' lead to 14-0.
Midway through the second quarter linebacker Noa snuffed a goal line charge by Cathedral's quarterback Tate Haynes and raced 90 yards for the score to make it 27-7.
"Obviously when you get a pick like that, it's great to take it the distance," said Noa, who recorded a team best 13 tackles. It's plays like that in pre-game practice that add up to a victory.
"I know I was ready on both sides of the ball," added Noa, who also played tight end. "Preparation is key. I know our coaches had us prepared and we were ready."
Noa made the most spectacular tackle of the game when he sped down the sideline to catch the Don's JeVon Figaro who covered 35 yards before Noa made a diving tackle to end the sojourn.
Cathedral continued to pound its way toward the goal line but failed to connect as EVAN PERKINS blocked a 17-yard field goal attempt.
Linebacker Clanton logged 4 tackles, a sack and a 12-yard interception for the Highlanders.
"What makes things easier for me is our defensive linemen generate a lot of free space," Clanton noted. "And I was able to take advantage of it."
SCOTTIE YOUNG registered two tackles and a sack for the Highlanders, while BLAYKE DE LA ROSA also logged a sack.
"I'm excited that we're going back to the championship game," Young said. "You don't always get a second chance and I feel fortunate that I've got one. We've got a lot of seniors and juniors who can really step up to the challenge this year."