Patriots club Lions in east clash at Small Schools tourney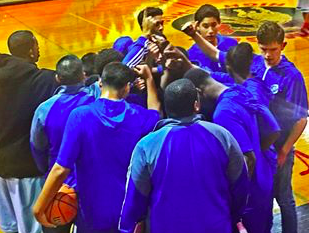 Visiting Chula Vista huddles prior to the start of the game against host Mount Miguel on Thursday.
2015-16 EAST COUNTY PREP BOYS BASKETBALL
By Bill Dickens
© East County Sports.com
SPRING VALLEY (12-4-15) — The Christian High Patriots are heading to the semi-finals of the San Diego Small Schools Tournament on Friday (Dec. 4) at 9 p.m. at Christian. If successful, the Patriots will advance to Saturday's finals.
In Thursday's (Dec. 3) tournament action the Patriots steamrolled Liberty Charter 66-35 at the Ryan Athletic Center.
The Patriots pulled away in the 2nd half against Liberty Charter and cruised to a big victory. Noted Christian assistant coach TIM BROWN, "We had different guys step up at different times and give us a boost."
The Patriots had 10 different players score with TRAVIS BALLARD leading the way with 21 points and 8 rebounds. Ballard hit 9 of 11 from the field and 3 of 5 free throws.
GARRETT NIELSEN was a nice spark off the bench as he was the only other Patriot to reach double figures in scoring with 10 points, including a pair of 3-pointers.
JOEY VRZICH muscled in 8 points and tackled the glass for 8 rebounds.
Three-sport letterman KYLE STOWERS punched in 8 points on 4-for-6 shooting from the floor. He also dished 9 assists.
Christian:  Travis Ballard 21 (8 reb), Garrett Nielsen 10 (4 reb, 2 ast, 1 stl), Grant Taylor 9 (2 reb, 2 stl), Joey Vrzich 8 (8 reb), Kyle Stowers 8 (1 reb, 9 ast, 2 stl, 2 blk), Dominic Safarta 3 (3 ast), Layne Larsen 2 (2 reb, 3 stl), Dominic Bristol 1 (5 reb, 2 ast, 1 stl), Jacob Sandusky 2 (1 reb), Daniel Guerrero 2 (2 reb), Jackson Larsen (1 reb), Jack Mason (1 reb).
MOUNT MIGUEL 65, CHULA VISTA 52 – Host Mount Miguel raced to a 23-3 lead early in the second quarter of Thursday's (Dec. 3) Baron-Matador Classic second round.
"We got that big lead early and then went into a fog," said Matadors coach JAY ROWLETT.
Chula Vista scrambled back to shave the Mount Miguel advantage to 3 points early in the fourth quarter.
"They had one big streak against us but our kids fought through it," Rowlett said.
Mount Miguel, which is averaging 73 points per game, was led to the scoring dish by DARIAN NORWOOD's 19 points. He added 12 rebounds, 2 assists and 3 steals.
TAJ TUCKER blistered the nets for 15 points, including 5-for-5 free throw shooting. He also handed out 6 assists.
TRANNELL HUDSON pitched in with 10 points, 6 rebounds, 3 steals and 2 assists.
The Matadors will host Castle Park Saturday (Dec. 5) at 5 p.m. in the Baron-Matador Classic.
Mount Miguel:  Darian Norwood 19 (12 reb, 2 ast, 3 stl), Taj Tucker 15 (1 reb, 6 ast), Trannell Hudson 10 (6 reb, 2 ast, 3 stl), Chris Thompson 9 (2 stl), Trevon Allen 8 (6 reb, 7 ast, 5 stl), Andre Cox 2 (2 reb, 3 ast, 2 stl), Justice Chima 2 (2 reb, 1 ast), Raymond Lucas (1 reb), Marquis Neal (1 reb, 1 stl).