Crushing Knights turning Battle Zone into arcade game
Updated: December 5, 2015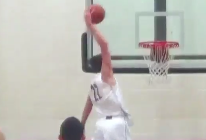 2015-16 EAST COUNTY PREP BOYS BASKETBALL
By James McHugh
© East CountySports.com
CORONA (12-5-15) —  Foothills Christian is headed to the championship game of Corona Centennial's "Battle Zone" Tournament after toppling Rancho Christian of Temecula 96-58 Friday night (Dec. 4) in their final pool play game.
The Knights finished pool play 4-0 and now have a Saturday Night Live (Dec. 5) engagement with the No. 1 ranked team in the state — the Chino Hills Huskies.
The Knights blew out Rancho Christian, but the night started sloppy. The Knights managed just 9 first quarter points when JORDAN VAN OMMERING was the lone Knight to score more than two in the frame, hitting an early three-pointer.
"We sleep-walked through the first quarter," remarked assistant coach TROY LEAF. "Quarters two through four were back to Foothills basketball."
The Knights ran wild over the next three quarters, leaving no chance of missing the big dance with Chino Hills. TJ LEAF rolled a double-double of 30 points and 11 rebounds while LUIS SALGADO pitched in 21 points of his own. The 21-points put Salgado over the 1,000 career point mark with 1,003 over the last three plus seasons for the Knights.
Freshman JAREN NAFARRETE saw significant action for the Knights as well, scoring the first four points of his high school career.
"Jaren is a starting point guard on most high school basketball teams, but he's learning a lot playing in high level national caliber games and he's more than holding his own," Troy Leaf said of the young guard.
Sophomore JORDAN STARR helped out by going for a career high 14 points on 6-foot-6 shooting from the floor and 2-for-2 from the free throw line
Foothills Christian now faces Chino Hills at 7:30 Saturday night in the "Battle Zone" championship at Corona Centennial. A win would likely have sports outlets looking at whether the Knights fit into the national ranking picture as Chino Hills is ranked as high as No. 5 in the nation in some polls.
Foothills Christian:  TJ Leaf 31 (11 reb, 6 ast, 3 blk, 3 stl,), Luis Salgado 21 (5 ast, 4 reb, 2 stl), Jordan Starr 14 (5 ast, 2 reb, 2 stl, 1 blk), Nikko Paranada 8 (5 reb, 5 ast, 1 stl), Omajae Smith 7 (6 ast, 3 reb, 1 stl), Daniel Hoffman 4 (1 stl), Kale Baldado 4 (4 reb, 1 ast, 1 stl), Jordan Van Ommering 3 (1 ast), TJ Lowery (1 reb)