Pats, Eagles, Sultans gain Friday hoop wins
Updated: December 5, 2015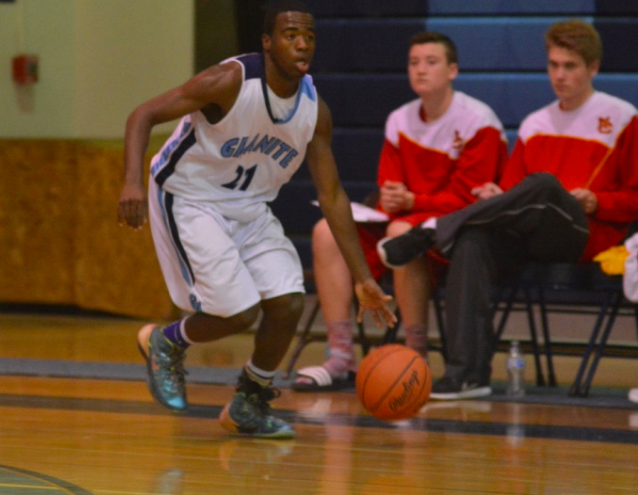 2015-16 EAST COUNTY PREP BOYS BASKETBALL
By Bill Dickens
© East County Sports.com
EL CAJON (12-5-15) — The Christian High Patriots dribbled their way into Saturday's (Dec. 5) finals of the San Diego Small Schools Tournament at 11:30 a.m. at the RAC.
The Patriots reached the championship by knocking off Preuss 57-49 in Friday's (Dec. 4) semifinals. It was the fourth win in five nights for the Patriots.
TRAVIS BALLARD had a monster night for the Patriots with 29 points and 15 rebounds. He hit 10 of 23 from the field including one 3-pointer and 6 of 7 free throws.
It was back and forth the entire first half.
The Patriots were trailing 28-26 at halftime, but erupted in the second half to seal the victory.
"It was good to see our guys handle some adversity," said Patriots assistant coach TIM BROWN.
The Patriots took a double digit lead in the third quarter and never looked back. KYLE STOWERS dished out 12 assists and JOEY VRZICH added 10 points and 7 rebounds in his first start of the season.
"Our guys battled tonight and showed a lot of fight," Brown noted.
The Patriots play Health Sciences in the championship game Saturday at 11:30 a.m. at Christian High.
Christian:  Travis Ballard 29 (15 reb, 1 ast, 2 stl, 1 blk), Joey Vrzich 10 (7 reb, 1 ast, 2 stl), Layne Larsen 9 (5 reb, 2 ast, 2 stl), Kyle Stowers 2 (7 reb, 12 ast, 1 stl, 1 blk), Dominic Bristol 2 (3 reb, 1 stl), Garrett Nielsen 2 (2 reb, 1 ast, 1 stl).
GRANITE HILLS 56, MT. CARMEL, 53 (OT) – Frustrated by giving up a 5-point play with 10 seconds remaining in regulation in Friday's (Dec. 4) Granite Hills Eagle Invitational, Eagles coach RANDY ANDERSON's crew battled back to secure a 56-53 overtime victory.
In the extra session CAMERON SPITZER nailed a 3-pointer and 2 free throws for the Eagles (1-1).
JAKE BURTON (6-foot-6, 255-pounds) pitched in 2 free throws to seal the deal.
Six-foot-7 junior RYAN KELLY nailed 4 of 11 buckets and 5 of 6 free throws for 13 points to go along with 17 rebounds to help the Eagles dominate the paint.
He was assisted by Burton, who collected 16 rebounds.
"Kelly and Burton have been absolute horses for us on the boards," Anderson said.
In the third quarter with Granite Hills down by 7, DARION COSION scored 6 of his 16 points in a one minute span to pull the Eagles to 40-37 against Mt. Carmel.
Granite Hills:  Darion Cosio 16 (2 reb, 1 ast, 1 stl, 3 blk), Ryan Kelly 13 (17 reb, 2 ast, 2 stl, 1 blk), Cameron Spitzer 11 (3 reb, 4 ast), Dylan Garcia 6 (4 reb), Jake Burton 5 (16 reb, 1 stl, 1 blk), Jordan Rogers 3 (1 reb), Aaron Swinson 2 (1 reb), Wyatt Mason (1 stl), Mezo (1 reb).
FRANCIS PARKER 58, HELIX 52 – Helix coach JOHN SINGER isn't pleased but not disappointed by the Highlanders' 0-3 start.
""I'm very pleased with the effort we had in this game all four quarters," Singer said. "We could have easily won this game against a quality opponent."
Helix took a 39-35 lead into the final quarter of Friday's (Dec. 4) Hilltop Tournament encounter against Francis Parker.
"We were right on the edge of pulling away and winning it with 3 minutes left," said Helix assistant coach ANDY MERIDETH. "But then we hit the wall, were gassed and tired."
JUSTIN FLISHER led the Highlanders with 18 points including a pair of treys to go along with 8 rebounds, while MALIK TAMBWE pitched in 12 points and bagged 6 rebounds.
JAMAR WYNN finished with 10 points for the second game in a row, including a 3-pointer.
Point guard AMARI GREEN played the full 32 minutes, finishing with 8 points, 11 rebounds, 2 assists and 3 steals.
The pivotal point for Helix' turnaround was ball control. The Highlanders committed 52 turnovers between their first two opponents, but only 15 against Francis Parker.
"We did a much better job of handling the ball," said Singer.
Parker knocked down 10 three-pointers to secure the victory over the Scotties.
Helix:  Justin Flisher 18 (8 reb, 3 stl, 1 ast), Malik Tambwe 12 (6 reb, 2 ast), Jamar Wynn 10 (1 reb, 3 ast), Amari Green 8 (11 reb, 2 ast, 3 stl), Cam Mutter 2 (3 reb, 2 ast), Brandon Parker 2 (7 reb, 3 ast), Roberts (1 reb, 1 ast).
POWAY 75, STEELE CANYON 58 – Any time an East County team travels north to face a North County power, things are usually tumultuous.
Steele Canyon faced Poway Friday night (Dec. 4) in a Granite Hills Eagle Invitational encounter and came out on the short end of the stick.
"They were a good, well disciplined North County team," noted Steele Canyon head coach DEREK STEPHENS. "They shot lights out in the second half.
"Defensively we missed some assignments," he added. "But we're young and (Poway) had a big spirit section. Our guys didn't let it get to them very much. We were down 10 or 12 points and they hit a couple of and-ones."
MARCUS WHITE poured in 23 points to lead the Cougars. He was the only player to score in double digits.
"We have work to be done but the attitudes of our guys are good," Stephens said. "We have had limited time in the gym the last couple of weeks as our girls volleyball team, which won the San Diego CIF championships, have been in the gym a lot.
"At this stage Poway was well prepared," he said.
Steele Canyon:  Marcus White 23, Gage Sanders 9, Nick Hodges 7, Thomas Fishburne 6, Jaylen Sayles 5, Tyler Smith 4, Brody Burningham 1.
SANTANA 62, CALVIN CHRISTIAN 30 – The Santana Sultans were able to gain the easy 62-30 victory in their home opener against Calvin Christian on Friday (Dec. 4th).
Thanks to a 21-4 scoring advantage after the first period, the Sultans were able to keep the momentum going into the break as they led 35-16.  Leading the charge for the Sultans was ANTHONY ROMERO who tallied 14 points and had 6 thefts.
SAGE HICKS contributed 11 points and 5 rebounds to the Sultans tab.
The second half was more of the same as Santana outscored Calvin 26-14 and did the most damage in the third period as they limited the Crusaders to four points.
Santana: Anthony Romero 14 (4 reb, 1 ast, 6 stls, 1 blk), Sage Hicks 11 (5 rebs, 1 ast, 1 stl), Mendoza 11 (3 reb, 6 ast, 7 stls), Daulton Barry 8 (2 reb, 2 ast, 1 stl), Trent Baugh 7 (7 reb, 1 ast, 1 stl), Trent Forster 4 (2 reb), Dylan Brown 4 (1 reb), John Bobof 2 (2 reb, 2 ast, 1 ast), Frankie Gutierrez 1 (7 reb, 6 ast, 1 stl)
— ADAM PAUL
VINCENT MEMORIAL 53, EL CAPITAN 48 – El Capitan scored 23 points in the second quarter to earn a one point halftime lead over visiting Vincent Memorial in Friday's (Dec. 4) Game on Challenge.
The Vaqueros extended their advantage to 2 points after three quarters but folded up shop after the Fighting Scots erupted for a 16-9 spread and a 53-48 victory.
KADE KYGAR paced the Vaqueros with 18 points including 4 treys.
DONALD IRVIN added 13 points to help El Capitan hold off Vincent Memorial.
DOMINIC IUDICIANI poured in 11 points and hauled down 10 boards for the Vaqueros.
El Capitan:  Kade Kygar 18 (3 reb, 4 ast, 1 stl), Donald Irvin 13 (3 reb, 1 ast), Dominic Iudiciani 11 (10 reb, 3 stl, 1 blk), Devin Dulay 4 (1 reb), Trevor Shenefield 2 (5 reb), Colton Sandoval (5 reb), Ren Neuhoff (1 reb, 1 stl), Danny Estrada (1 reb, 2 ast, 2 stl).
MISSION BAY 85, MONTE VISTA 57 – The No. 10 ranked Buccaneers bookended Monte Vista with 25 points in the first and fourth quarters in Friday's (Dec. 4) Hilltop Tournament contest to pull off a lopsided victory.
DEONDRE McHAYLE paced the Monarchs with 24 points and 8 rebounds, while TRE OWENS pitched in 14 markers. McHayle nailed 3 triples and scored 17 points in the third quarter.
SHAI STEVENSON had 8 rebounds and BO RANKINS pulled down 7 boards.
"Not having McHayle at the outset of the season took its toll," commented Monte Vista coach MIKE TULLY. "It hurt our momentum and ball movement."
Monte Vista:  Deondre McHayle 24 (8 reb, 1 ast, 1 blk), Tre Owens 14 (3 reb, 5 ast), Bohanon Rankins 6 (7 reb), Shai Stevenson 5 (8 reb, 5 ast, 3 blk), Terry Bone 8 (2 reb, 1 stl), Adrian Bass (1 reb).
OCEANSIDE 63, EL CAJON VALLEY 34 – No report received for this Game on Challenge contest.