Cards win with some home cooking over Cougars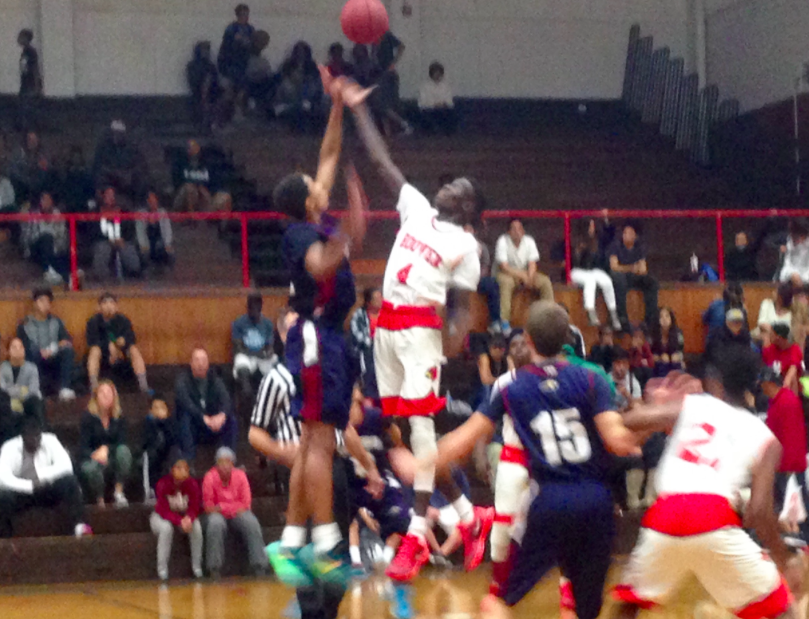 2015-16 EAST COUNTY PREP BOYS BASKETBALL
By James McHugh
© East County Sports.com
SAN DIEGO (12-9-15) — The Steele Canyon Cougars are off to a 1-3 start in their 2015-16 campaign after a 67-58 loss to the Hoover Cardinals Wednesday night (Dec. 9) in the Granite Hills Eagles Invitational.
Steele Canyon is attempting to replace their top three offensive weapons from a year ago, AARON PISIONA and DYLAN HAMLETT to graduation and DOMINICK WOOD-ANDERSON who departed for Mater Dei in Chula Vista.
"We don't have a lot of offense right now. We have some talented players but we haven't really played as a team yet," remarked Cougars head coach DEREK STEPHENS on Steele Canyon's early challenges.
The new look Cougars are led this season by senior MARCUS WHITE who averaged 7.0 points per game a season ago but has averaged 18.5 over his first four games this season.
White did not start the night for the Cougars, and got off to a slow start offensively, missing his first three free throw attempts and turning the ball over twice before scoring nine first half points to help the Cougars build a 26-23 halftime lead over the Cardinals.
The second half became a back-and-forth battle in which Hoover senior Baka Gowlolo boosted his night to monster stat status with 28-points and 20 rebounds.
A scoring error put a black mark on the contest late when a Steele Canyon basket was awarded to Hoover. With 5:08 to play Steele Canyon trailed 53-48 before two Marcus White free throws made the score 53-50 in favor of the Cardinals. White finished the night with 18-points to lead the Cougars.
After a Hoover turnover, NICK HODGE then drove the lane for a Cougar layup. Instead of cutting the Cardinals lead to 53-52, the score displayed on the board was 55-50 Hoover. Steele Canyon's book keeper was unable to verify who had scored the last basket so the home Cardinal book was upheld.
"We have to learn to play through something like that. At the end we didn't get stops," Stephens remarked on the situation.
Hoover got to the line time and time again to close out the night and although the Cougars limited Gowolo's damage in the fourth quarter, Daevon Bazzo connected on 7-7 from the free throw line for Hoover in the final eight minutes helping the Cardinals to the 67-58 victory.
Steele Canyon:  Marcus White 18 (3 stl, 2 reb, 1 ast, 1 stl), Thomas Fishburne 11 (6 reb, 5 stl), Nick Hodge 10 (5 reb, 4 stl, 3 ast), Gage Sanders 8 (6 reb, 1 ast, 1 stl), Tyler Smith 6 (3 reb, 2 blk, 1 ast), Jalen Salas 3 (5 reb, 2 blk, 1 ast, 1 stl), Brody Burmingham 2, Nick Barnes 2, Javon Nutter (5 reb), Eric Villegas (1 reb)***
*** Steele Canyon scoring totals 60 even though final score was 58 due to in game scoring error.