Highlanders fall in state semifinal in devil of a finish
Updated: December 12, 2015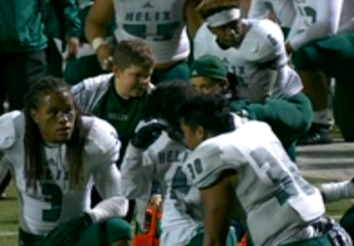 Helix defense confers during an injury time out Friday night in Mission Viejo.
2015 EAST COUNTY PREP FOOTBALL
By Ramon Scott
© East County Sports.com

MISSION VIEJO (12-12-15) —  Following a season-opening loss to a state top-10 ranked opponent from Arizona, Helix won 11-straight games en route to Friday night's (Dec. 11) IAA regional state playoff game against undefeated Mission Viejo by overwhelming their mostly capable, but primarily overmatched opponents.
To knock off the host Diablos – owners of a 26-game winning streak – the Highlanders were going to need to somewhat slow Mission's high-powered offense, force turnovers and get another Silver Pigskin-like performance from senior superstar running back NATHEN STINSON.
And they got all three key elements and appeared headed to a CIF State Championship date in Sacramento, holding a 28-26 lead over the hosts when the unthinkable happened.
A fluke turnover by Stinson as the Scotties were trying to run out the last four minutes of the game on legendary coach Bob Johnson's team, which had burned through a pair of time outs early in the third quarter.
Stinson's right arm and protected ball caught the back of his big senior lineman, 300-pound MARIO BERNAL, and somehow fell out of his grasp and onto the turf, where it was picked up by the Diablos' Christian Lavalle.
"I think he just lost the handle on it," Lavalle said. "I was just trying to get in my spot and saw it pop out. We knew we had to play tough against the run to beat them and he's the fastest guy we've gone up against."
Helix coach TROY STARR said that Stinson is the finest running back he's ever coached in his 22-year career.
A couple of plays later, Diablos' star back Colin Schooler broke away for a 13-yard run down to the 2, then he dove over the top for the go-ahead score with 1:59 remaining, lifting Mission Viejo (15-0) to the state berth with a 32-28 victory.
The Highlanders (11-2) didn't bother to give the steaming Stinson – who already had 276 yards and four touchdowns in the game – another chance at paydirt, which lay some 67 yards away. Instead they emarked on a two-minute-drill air approach, which resulted in an interception on the first attempt by senior quarterback MICHAEL AUSTIN.
"I am as proud of my team as can be," Starr said. "It's a great effort and mistakes happen. Our guys played as hard as they could, they have nothing to hang their head over. It was a great game."
The Diablos had just closed the lead to 28-26 with a 1-yard score from Schooler with 4:45 remaining, as the PAT pass failed, before the Scotties went to erase some clock.
Stinson picked up a pair of 7-yard runs and at least appeared to be headed to put the Diablos in tough field position should they be forced to punt, before the unlikely fumble changed things.
Helix forced four turnovers of its own to appear headed to the upset win.
Helix got the benefit of a turnover in the first quarter when Mission Viejo attempted a backwards pass that hit the running back in the back and the ball went to the ground. Helix picked up on it, as a few players stopped not thinking the play was still alive, and senior JIHAD WOODS fell on the ball. Stinson made a run down to the six by staying on his feet after he was nearly tripped up, then went in for a 3-yard TD run at 5:44 of the first quarter.
Later in the first, Helix had Mission Viejo in a 3rd and 7 at the 24, and the Diablos brought in a jumbo two tight-end package, setting up one-on-one coverage for sophomore receiver Austin Osborne, who quickly got behind the coverage and was open for the perfect-strike touchdown. The PAT was missed, leaving Helix ahead, 7-6.
Junior EVAN PERKINS, of Helix, broke up a pass with 9:40 left in the second quarter to force a punt, then moments later, Stinson broke through a huge hole for a 61-yard touchdown run at 8:31 of the second quarter, putting the Highlanders ahead, 14-6.
Johnson threw an interception on the ensuing series, as NICHOLAS SOLIZ made a diving interception at the Helix 42.
After the drive stalled, Mission Viejo scored on a quick, impressive 71-yard drive, capped by a touchdown pass from Johnson to Osborne for a 56-yard score with 5:37 left in the second quarter. Johnson, the coach's grandson and the latest in a line of quarterbacks from the Johnson family, shows a great touch and timing with his young star receivers. He found Olaijah Griffin for the game-tying two-point conversion.
Mission Viejo, which has a state best winning streak at 27 in a row, got the go-ahead score late in the second quarter on a Helix mistake when a muffed bouncing punt was recovered by the Diablos. The Diablos had forced a punt following a hit on quarterback Austin, which limited his mobility for the remainder of the game.
Helix's EZEKIEL NOA made a fourth-down tackle for loss to thwart Mission Viejo's initial drive of the game just inside midfield. He later had a sack in the second quarter, chasing down Johnson from behind.
"We lost to a great team," said Starr, who announced his resignation as Helix's coach just after midseason. "I love these guys. It was a great season. There is no sting right now."
Stinson, who has kept his commitment to Northern Arizona during his incredible senior season, finished the year with 1,989 yards and 35 touchdowns.
Helix lined up for a fourth-and-4 play with nine minutes to go in the third quarter and Stinson busted off right-tackle as part of a jumbo package that allowed him to run untouched 43 yards for a touchdown that lifted Helix back into the lead, 21-20.
After the Highlanders' SCOTTIE YOUNG stopped a deep threat with a forced fumble with a strip of Schooler, Stinson scored on a 92-yard run late in the third quarter to give the Highlanders a 28-20 lead.
"(Stinson) was amazing," said Starr, who finishes 83-18-1 at the helm of the Highlanders. "It's not always fair. It's not always kind. You can see it as a gut-wrenching loss, but I don't."
Helix appeared to have Mission Viejo stopped with 1:03 left in the game and a last-ditch chance to get the ball back, but an offside penalty on fourth-and-four gave the Diablos a first down.
Schooler had 160 yards on 38 carries.
"Our run game is extremely effective on a good night but for the first half and most of the third quarter, we weren't running the ball well at all," Schooler said. "We almost didn't run out the clock, but I'm glad we didn't have to punt it back to them."
Johnson went 14-for-22 for 146 yards, while Osborne had four receptions for 93 yards. One downer for the Diablos was the loss of OL Zack Aylor, who suffered a serious left leg injury. The game was delayed for 10 minutes while an air cast was applied and he was taken by ambulance to the hospital for treatment.
"It was a great game and when the 'W' is there at the end we like it," coach Johnson said. "We were in trouble there so I give them a lot of credit."
Helix sophomore punter KEATON CHASE had a 53-yard punt late in the second quarter that bounced down the stripe near the 5 and out of bounds at the 2.
FORREST HANLON had a sack for Helix in the fourth quarter, while SEFA TAUANU'U had a tackle for loss that set up a fourth-down try for the Diablos that came up a yard short of the line.
Mission Viejo advances to face San Jose Bellarmine in the CIF state title game in Sacramento next Friday. Bellarmine defeated Folsom 42-35 in an upset on Friday night.