East stars shine in international game
Updated: December 19, 2015
2015 EAST COUNTY PREP FOOTBALL
By Chris Davis
© East County Sports.com

CHULA VISTA (12-19-15) — Eight East County student-athletes had the ultimate honor on Friday (Dec. 18) night at Otay Ranch High School.  That ultimate honor was representing their country in a high school all-star game the Americans won 27-21 over Mexico's Under-19 National team.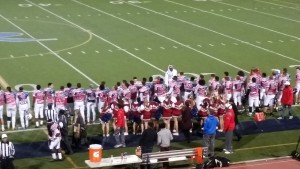 The game got off to a slow start as both teams were probing each other to see what plays would work and which would not.  Team USA got on the board first when Poway High's Connor Kirkegard kicked a 37-yard field goal.  Five minutes later, Carlsbad's Collin Riccitelli chipped in a 30-yarder boot to make it 6-0 after one quarter.
On the second play of the second quarter, ADRIAN PETTY (Christian) scored the game's first touchdown on a 25-yard screen pass from Rhett Riley (Valley Center) to make it 13-0 in favor of the Americans.
Grossmont's KHALEED DAVIS reeled in a DAVID JEREMIAH (Christian) 27-yard TD touchdown pass to give the Americans a 20-0 lead.
Team Mexico came back and scored the next 14 points to make it 20-14 in favor of the Red, White and Blue.
Riley would run in the final score for the Americans in the third quarter to make it 27-14.
Mexico would put the pressure on the Americans as they scored to pull within a 27-21 with three minutes left in the game.
"It was a fun experience playing with a bunch of talent from around the county," Petty said after the game.
Things got chippy between the two sides as a member of Team USA was ejected for throwing a punch. The penalty flag fell 15 times against the Americans compared to just one 15-yarder again st Mexico.
Grossmont's ALEX LILLIARD had several clutch pass breakups in the game that kept Team Mexico out of the end zone on a few more occasions.  In addition, Lilliard was joined by CHANCE COLSON from El Capitan had 10 tackles in the game to lead the Stars and Stripes defense.
"It was a fun game," Davis said after the game.  "I enjoyed it thoroughly.  It also felt great to play another high school game."
The next All-Star game on the schedule will be the Jersey Mike's Bowl sponsored by Friday Night Lights Magazine, being held on Sat., Dec. 26) at 1:00 p.m. at Valley Stadium at Granite Hills High.  SPENCER MOYER, Davis, TAJ BROOMFIELD, JAKE KITTEN, LOGAN BAKER and Lilliard are just a few of the players that will be participating in the game.