Highlanders' DL Hanlon accepts Aztecs' offer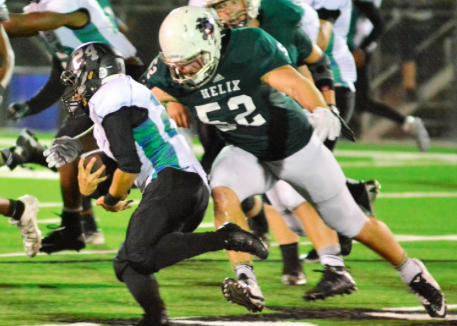 2015 EAST COUNTY PREP FOOTBALL   
By Bill Dickens 
© East County Sports.com
LA MESA (12-24-15) — Highly decorated Helix lineman FORREST HANLON has accepted a football scholarship to San Diego State University.
On the flip side, Highlanders' wide receiver MEKHI STEVENSON has received an offer to Utah State University.
Hanlon, a 6-foot-3, 245-pound defensive lineman has been heralded with handfuls of honors, including Grossmont HIlls Defensive Player of the Year.
As a junior, who can also play the offensive line, Hanlon earned All-CIF second team, and was named to the 2015 All-CIF First Team Defense.
Stevenson, a 6-foot, 177-pound receiver, was chosen to the All-CIF second team offense this year as well as first team All-Grossmont Hills League. He caught more than 50 passes for 8 touchdowns, and is considering his options with the Aggies.