Foothillers use inside game to beat Monarchs
Updated: December 19, 2015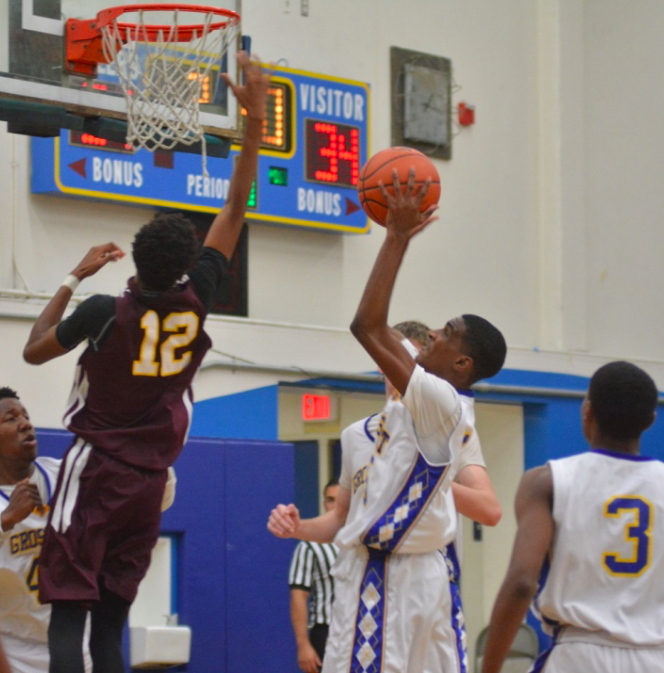 Photo by Ramon Scott
2015-16 EAST COUNTY PREP BOYS BASKETBALL
By James McHugh
© East County Sports.com
EL CAJON (12-18-15) — In their last outing the Grossmont Foothillers ran into a vastly more balanced La Jolla Country Day team that sports three young freshman and a lot of offensive prowess. On Friday night (Dec. 18) the Hillers righted the ship, defeating Monte Vista 76-47 in their first pool play game of the Grossmont Winter Classic.
TOMMY RUTHEFORD led the scoring for Grossmont, per the norm, finishing with 30 points and 17 rebounds on the night in 25 minutes of work. Grossmont did not shoot particularly well from the floor though, something the Foothillers will need to improve before two tough contests with La Jolla and Torrey Pines coming up next week – particularly from long range where Grossmont connected on just 4-24 from outside.
Anyone familiar with the Foothillers' game however, knows that the offense flows through #42 Rutherford inside the paint.
"Early on coach told me to be more aggressive, that I wasn't being aggressive enough, and what coach says is right," Rutherford said of his first half performance. "Coach has helped me develop a lot as a player and I just go out, listen to what he says and try to get that done out on the court."
Based on his second-half performance it would seem that coach FRANK FOGGIANO's advice to his UC Irvine-bound center was spot on. Rutherford connected on six straight shots in the paint and left Monte Vista with little to do defensively.
JEREMIAH APPLETON gave out three of his game high six assists during Rutherford's outburst.  Rutherford finished 14-21 from the field and 2-3 from the line before exiting early in the fourth quarter.
For Monte Vista, TRE OWENS led all scorers with 13 points and added five rebounds. BO RANKINS also chipped in with 11 points for the Monarchs. SHAI STEVENSON had four steals to go along with his nine points and five rebounds on the night as well.
Grossmont has games with Eastlake Saturday (Dec. 19) and Hilltop Monday (Dec. 21) before two big statement games against La Jolla and Torrey Pines close out their pool play next week. Rutherford is looking forward to the challenge for the Foothillers.
"A game like today you just have to go out and play hard regardless of the score. I do look forward to playing Torrey Pines because they're a really good team," Rutherford said. "I know a lot of the guys on that team and they have a lot of good players. It's going to be a great challenge for us," he added of the Hillers' tough schedule coming up.
Monte Vista takes on Hilltop Saturday (Dec. 19) in their second Grossmont Winter Classic pool play game. Game time is set for 4:30 at Grossmont.
Grossmont:  Tommy Rutherford 30 (17 reb, 1 ast, 1 blk) Marquise Purnell 13 (5 reb, 1 ast, 1 stl), Hunter Gaines 8 (3 reb, 2 ast) Matt Murray 7 (2 reb, 1 at), Jonah Hebel 5 (5 reb, 2 stl), Jeremiah Appleton 4 (1 reb, 6 ast, 3 stl), Hunter Mulder 4 (3 reb), Branik Brown 3 (1 reb), Jacob Niskey 2 (1 reb, 1 ast), Ryan Shirley (2 reb, 3 stl), Damageae Gant 1 reb, 1 ast), Dayveion Crawford (1 ast).
Monte Vista: Tre Owens 13 (5 reb, 1 ast, 1 stl), Bo Rankins 11 (2 ast, 1 stl), Shai Stevenson 9 (5 reb, 4 stl, 2 ast, 2 blk), Adrian Bass 4 (1 reb), Terry Bone 4 (2 reb), Deondre McHayle 3 (3 ast, 1 stl), Dylan Ayers 2 (2 reb, 2 blk), Kelton Vun 1 (3 reb, 1 ast), Tre Koita (5 reb, 1 blk).
MOUNT MIGUEL 76, SAN DIEGO 74 – Mount Miguel's DARIAN NORWOOD scored 30 points for the second time this season, grabbed 15 rebounds and dished 2 assists as the Matadors (5-3) edged San Diego in the Winter Prep Classic at Mira Mesa High.
TREVON ALLEN muscled in 15 points, grabbed 8 rounds, and dished 4 assists, while TAJ TUCKER netted 15 points including nailing 3 treys while dishing 7 assists and recording 3 steals.
TRANELL HUDSON led the supporting cast with 10 points, 4 rebounds and 4 steals.
"We were up one point and Trevon Allen got fouled," said Matadors coach JAY ROWLETT. "He made the first and missed the second. San Diego got the rebound and called a timeout. With 5.7 second San Diego tried to dribble down the court and Norwood deflected the ball to deny the shot."
Mount Miguel:  Darian Norwood 30 (15 reb, 2 ast), Trevon Allen 15 (8 reb, 4 ast), Taj Tucker 15 (7 ast, 3 stl), Tranell Hudson 10 (4 reb, 4 stl), Chris Thompson 6 (1 reb), Raymond Lucas (5 reb), Andre Cox (1 stl), Justice Chima (1 reb), Marquis Neal (1 ast).
— BILL DICKENS
MADISON 56, GRANITE HILLS 55 – The struggling Granite Hills Eagles had victory on their fingertips in Friday's (Dec. 18) Coronado Tournament game against Madison, but still came up short.
The middle two quarters killed the Eagles as the Warhawks claimed an 29-11 scoring advantage.
Down by 13 in the fourth quarter the Eagles fought back as DARIEN COSSIO and RYAN KELLY got 7 points apiece.
Kelly finished with 17 points and CAMERON SPITZER also finished with 10.
Granite Hills (1-5) missed knocking off Madison when Spitzer missed a 15-footer at the buzzer.
Eagles coach RANDY ANDERSON said, "He got a good look but he hurried his shot. He didn't have any choice as time was running out."
Granite Hills:  Ryan Kelly 17 (4 reb, 1 stl, 3 blk), Darien Cossio 10 (2 reb, 2 ast), Cameron Spitzer 10 (1 reb, 1 ast, 1 stl), David Setterberg 9 (6 reb, 1 ast, 1 blk), Jacob Burton 6 (8 reb, 1 ast, 1 stl, 3 blk), Dylan Garcia 2 (3 reb), Jorden Rogers (1 reb), Erin Swinson (1 reb), Mario Mezo (1 reb).
— BILL DICKENS
SANTANA 42, UNIVERSITY CITY 37 – Multiple-sport athlete FRANKIE GUTIERREZ drilled in 12 points and grabbed 9 rebounds to help the Sultans overcome University City in Friday's (Dec. 18) Grossmont Winter Classic.
The Sultans erased a 34-27 deficit with a 15-3 scoring run in the final period.
TRENT BAUGH registered a double-double of 10 points and 11 rebounds for the Sultans.
Santana:  Frankie Gutierrez 12 (9 reb, 1 ast, 3 stl), Trent Baugh 10 (11 reb, 1 stl), Sage Hicks 5 (3 reb, 2 stl, 1 blk), Mitchell Miller 5 (2 reb, 5 ast, 3 stl), Cooper Mendoza 4, Anthony Romero 3 (2 reb, 1 ast, 2 stl, 1 blk), Daulton Barry 3 (1 reb, 2 ast),), Noah Nunez (1 reb).
SAGE CREEK 76, EL CAPITAN 38 – Twenty-six turnovers by El Capitan dropped the floor on the Vaqueros as they succumbed to Sage Creek in Friday's (Dec. 18) Grossmont Winter Classic at Cuyamaca College.
El Capitan stormed to a 16-6 lead midway through the second quarter and then lost their focus, as the Sage Creek Bobcats dominated thereafter.
The Bobcats nailed 9 three-pointers and had four players reach double scoring digits.
"We played very lackadaisical, and it showed," said Vaqueros coach FRANK QUINONES.
El Capitan:  Dominic Iudiciani 12 (3 reb, 2 ast, 1 stl), Donald Irvin 10 (1 reb, 1 stl), Kade Kygar 6 (4 reb, 3 ast, 3 stl), Devin Dulay 5 (2 reb, 2 ast, 1 stl), Danny Estrada 2 (3 reb, 2 ast), Colton Sandoval 2 (1 reb), Carson Tabor 1 (1 reb, 1 ast, 1 blk), Ren Neuhoff (1 reb, 1 blk).
— BILL DICKENS

POWAY 57, WEST HILLS 47 – The Wolf Pack had trouble generating a wide open scoring attack against Poway in Friday night's (Dec. 18) North County Tournament encounter.
Ten members of the Pack contributed to the scoring but only BRYCE PARSONS reached double digits with 12 points and 10 rebounds in the losing effort.
West Hills:  Bryce Parsons 12 (10 reb, 3 ast, 1 stl), Miguel Nava 8 (3 reb), Marquell Cool 7 (2 reb, 1 ast, 1 blk ), Kyle Ruiz 6 (1 reb, 3 ast, 1 stl, 1 blk), Cameron Barry 3 (2 reb, 1 ast, 3 stl), D'Ante Hill 3 (1 ast), Marco Ovies 2 (2 reb, 4 ast), Nelson Zoree 2 (2 reb, 1 stl), Spencer Moyer 2 (1 reb, 1 ast), Caesar Curet 2 (2 reb), Scott Wheeler (2 stl), Scott Wheeler (2 stl).
— BILL DICKENS

LJCD 80, EL CAJON VALLEY 24 – County power La Jolla Country Day outscored the Braves 51-9 in the middle two quarters of Friday's (Dec. 18) Grossmont Winter Classic contest.
RONNE READUS rolled off a double-double of 10 points, 12 rebounds and 3 blocks for the Braves (1-5) and AHMAD SULYMAN contributed 8, but it wasn't enough.
"(LJCD) doesn't have any Division I players, but they are disciplined and play good, solid basketball," said Braves coach SCOTTY JAMES. "So hats off to them. They are shooters, for sure. They don't turn the ball over. We had 24 turnovers. That goes back to fundamentals. By the time we get to league we'll be in better shape."
El Cajon Valley:  Ronne Readus 10 (12 reb, 3 stl), Ahmad Sulyman 8 (1 reb), Jeremiah Davis 2 (3 reb), Daniel Stokes 2 (2 reb), Hasan Alhasan 2, Greg Jones 2, Hussein Al-anezi (1 reb).
— BILL DICKENS
KEARNY 59, HELIX 42 – JUSTIN FLISHER spun in 11 points, grabbed 7 rebounds, dished 3 assists, made 3 steals and blocked 2 shots but his solid effort was not even close enough to help the Highlanders (1-5) knockoff of Kearny in the Xtreme Glass Holiday Tournament at Sweetwater.
MALIKE TAMBWE powered in 10 points, grabbed 8 rebounds and blocked 3 shots for the Highlanders who trailed by only 8 points with three minutes left to go.
At that point the Helix offense stalled and the Komets pulled away for the lopsided victory.
Helix:  Justin Flisher 11 (7 reb, 3 ast, 3 stl, 2 blk), Malik Tambwe 10 (8 reb, 2 stl, 3 blk), Jaylen Arnold 9 (4 reb, 2 ast, 1 stl), Jamar Wynn 7 (4 reb, 1 ast, 2 stl), Amari Green 5 (4 reb, 2 ast, 2 stl), Jihad Woods (2 reb, 1 ast), Cameron Mutter (2 reb, 1 stl), Brandon Parker (1 ast, 1 stl).
— BILL DICKENS