Knights' vets are clutch late in ESPN showcase game
Updated: December 19, 2015
2015-16 EAST COUNTY PREP BOYS BASKETBALL
By James McHugh
© EastCountySports.com
GOODYEAR, Ariz. (12-19-15) – Foothills Christian edged Cypress Lakes, of Katy, Texas 57-55 on Friday night (Dec. 18) in one of 11 high school basketball games televised on the ESPN family of networks this year, as part of the Geico ESPN High School Basketball Showcase.
Foothills Christian forward T.J. LEAF and Cypress Lakes guard De'Aaron Fox are the #13 and #7 recruits in the 2016 class, committed to UCLA and Kentucky respectively.
The teams were honored with an ESPN 2 national audience, playing at Desert Edge High School. Early on the two top recruits provided most of the offense for their team's  Leaf netted 12 of the Knights' 19 points in the first quarter and dished two assists as well.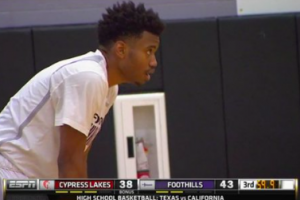 LUIS SALGADO had two alley oops to Leaf in the opening minutes and a memorable moment to come. OMAJAE SMITH had five of his six points in the first as well, including a dunk of his own during an 8-0 run for Foothills.
JORDAN STARR was a bright spot for the Knights, making plays on both ends of the floor. Starr finished with four rebounds, two key blocks, an assist and a steal before fouling out late in the fourth quarter.
One thing the Knights did not do well was shoot threes. Foothills Christian connected on just 1-13 from beyond the arc. That on-target shot would prove valuable late however. The Knights led 34-30 at the break and 43-41 after three. De'Aaron Fox got hot late for CypressLakes though, scoring nearly every point for the Spartans including the first 11 of the fourth quarter.
Down by two late in the fourth quarter Foothills Christian needed someone besides Leaf, who finished the night with 36 points, to get things done. Everyone watching knew that the first option was through the UCLA bound star. But the Knights hadn't connected from downtown all night, and Luis Salgado, who holds the San Diego Section record for career accuracy from long range, was 0-7. The team as a whole was 0-12.
"Early in the game I didn't make my shots so coach told me to hold on for a bit, to work the inside game with T.J. (Leaf) and keep playing my game," Salgado said of his night late Friday evening. "In the middle of the fourth quarter coach gave me the green light and the other coaches told me to be confident and let it fly," Salgado remarked on the advice he was given, considering an unusually off night from three point land.
With 13.8 to play trailing by two, freshman guard JAREN NAFARRETE hit Leaf in the post. Leaf was quickly converged on by three Spartan defenders and without hesitation kicked out to Salgado for three. Salgado drained his first, and biggest three-pointer of the night giving Foothills Christian a one point lead with 9.8 seconds to play.
When asked what went through his mind on that final dagger of a shot Salgado remarked "nothing." "I knew that if I cleared my head and let it fly like my coaches and teammates told me to, it was going to go in." And go in it did. Leaf added a free throw in the final seconds to give Foothills Christian thw narrow victory on the national stage.
T.J. Leaf stated after the game that kicking the ball out to Salgado and watching him drain the three to give the Knights the lead for good was his favorite moment of the night.
"The team works so hard and even though we didn't play the best, we still got the win," Leaf said as the team celebrated on Friday night (Dec. 18).
Foothills Christian (5-1) faces Bishop O'Dowd in their opening round game at the Under Armour Holiday Classic at Torrey Pines Dec. 26) at 9:05 pm.
Foothills Christian:  T.J. Leaf 36 (10 reb, 5 ast, 2 blk, 1 stl), Luis Salgado 9 (7 reb, 5 ast, 1 stl), Omajae Smith 6 (7 reb), Jordan Starr 4 (4 reb, 2 blk, 1 ast, 1 stl), Nikko Paranada 2 (3 ast, 2 stl, 1 reb), Jaren Nafarrete (2 ast, 1 reb).