Vaqueros Cook up holiday feast in two-game tourney sweep
Updated: December 22, 2015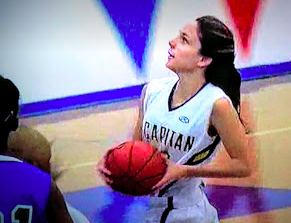 MAKENZIE KYGAR DRIVES TO THE BASKET MONDAY NIGHT AGAINST GOMPERS.
2015-16 EAST COUNTY PREP GIRLS BASKETBALL
By Bill Dickens
© East County Sports.com
ESCONDIDO (12-22-15) — MARIE COOK probably did a lot of Christmas shopping but she took a lot of her personal time to guide the El Capitan Vaqueros to a two-game sweep Monday (Dec. 21) in the Orange Glen Christmas Jamboree.
Cook, a sophomore, powered in 28 points including 8 of 12 free throw shooting in the Vaqueros 60-31 rout of Gompers Prep in the early game of the day.
She came back for the nightcap equally as sure-handed as she banged in 18 points in the Vaqueros 30-28 victory over Clairemont.
MAKENZIE KYGAR scored 13 points and DANIELLE PIMENTEL popped in 10 against Gompers.
El Capitan will play two games in the same tournament on Tuesday (Dec. 22). They will face El Cajon Valley in the New Gym at 11 a.m. and will meet Calvary Christian Academy in the same place at 2 p.m.
El Capitan vs. Gompers Prep:  Marie Cook 28, Makenzi Kygar 13, Danielle Pimentel 10, Taylor Fagan 7, Sarah Lohman 2.
El Capitan vs. Clairemont:  Marie Cook 18, Danielle Pimentel 4, Taylor Fagan 4, Makenzi Kygar 2, Sarah Lohman 2.