Pack topple Del Norte for Prep Classic division title, 55-46
Updated: December 31, 2015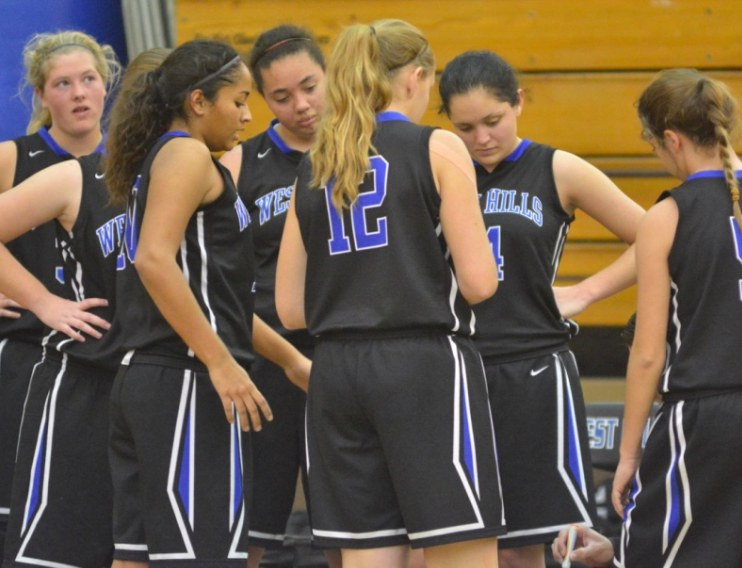 2015-16 EAST COUNTY PREP GIRLS BASKETBALL
By Bill Dickens
© East County Sports.com

EL CAJON (12-31-15) — All tournament selection MEGAN SCOTT drilled in 14 points, grabbed 6 rebounds, dished 5 assists and made 2 steals as West Hills captured the championshiop of the 2015 NAIA Division of the SoCal Holiday Prep Classic as they knocked off Del Norte in Wednesday's (Dec. 30) contest.
MAYA CLEMONS added 12 points and 7 rebounds, while KERRIE DANIELS contributed 10 points and 5 rebounds to the Wolf Pack's cause.
"We played a very poor defensive first half," said West Hills coach RYAN KINSER. "The first time we played them they scored 31 the entire game; tonight they scored 29 in the first half.
"We played better defense the second half; offensively we were consistent both halves.

West Hills:  Megan Scott 14 (6 reb, 5 ast, 2 stl), Maya Clemons 12 (7 reb, 1 stl), Kerrie Daniels 10 (5 reb, 2 stl), Carly Raley 9 (8 reb, 1 stl), Vivian Panella 4 (2 reb, 4 ast, 1 stl), Haley Doucette 2 (1 reb), Summer Stewart 2 (1 reb, 1 ast), Clarrisa Holder 2 (2 reb, 1 ast), Alyssa Garcia (1 reb, 1 stl).
CHRISTIAN 55, LUTHERAN 20 – The Christian Patriots turned in an aggressive defensive stance as they logged 27 steals, 34 rebounds and 7 blocks in their victory over hapless Lutheran Wednesday (Dec. 30) in a non-league encounter at the RAC.
The Patriots took a 24-3 first quarter lead and after that it was game, set match.
MARISSA GILES led the way with 18 points, 5 rebounds, 3 blocks and 7 steals for Christian.
BROOKE OWENS chipped in with a double-double of 16 points and 12 rebounds to go along with 7 steals and a block.
SAGE SALACUP contributed 14 points, HAYLEY ROBINSON grabbed 10 rebounds and JASMYN CRAWFORD snagged 8 steals.
Christian:  MARISSA GILES 18 (5 reb, 3 ast, 3 blk, 7 stl), Brooke Owens 16 (12 reb, 3 ast, 7 stl, 1 blk), Sage Salacup 14 (5 reb, 3 stl), Hayley Robinson 4 (10 reb, 2 blk), Jasmyn Crawford 2 (1 reb, 1 ast, 1 blk, 8 stl), Alyssa Rothrock (2 reb, 2 stl), Taylor Giese 2.
EASTLAKE 37, MOUNT MIGUEL 35 (OT) – The Matadors took the Titans into overtime at 35-all. The two teams sputtered miserably in the extra stanza on Wednesday's (Dec. 30) 5th place of the WNBA Division of the SoCal Holiday Prep Classic.
The Titans tied the game with 6 seconds left on a runner by Yesenia Smith.
Eastlake eventually won the game after Mount Miguel missed a one-and-one free throw chance, and the Titans scooped up the misses and nailed a pair of free throws in the final seconds.
"I've never been so embarrassed as I am right now of our lack of effort," said Mount Miguel coach ROBBIE SANDOVAL. "As a coach who has been at Mount Miguel for 16 years, I hate to think about how bad we were tonight in terms of effort."
DESTINI ANDERSON paced the Matadors with 12 points, while AMBER HARD was big on the boards with 11.
Mount Miguel:  Destini Anderson 12 (6 reb), Camara Douglas 7 (2 reb, 1 ast, 1 stl), Amber Hard 6 (11 reb), Laila Smith 6 (1 reb, 5 ast), Michelle Corley 4 (1 reb, 1 stl), Rozlyn Pierce (6 reb).

OUR LADY OF PEACE 55, STEELE CANYON 40 – Steele Canyon was playing chase from the get-go as the Pilots of Our Lady of Peace jetted out of the hangar to take a 31-13 halftime lead in Wednesday's (Dec. 30) FIBA (Black Division) of the SoCal Holiday Prep Classic/
"We played a Division I team that could probably make the Open Division," commented Steele Canyon coach PETER RUIZ. "The first half wasn't our finest hour. If we had played like we did in the fourth quarter the first part of the game we probably could have won it. It was a tough but good pool play that we had. It let us know what we have to do to get ready for league."
JULES LOIBL led the Cougars with 13 points.
Steele Canyon:  Jules Loibl 13, Ashley Tavizon 9, Marianna Martinez 5, Mya Cross 4, Marie Estavillo 3, Bliss Montemayor 2, Kylie Minshew 1.
HERITAGE CHRISTIAN 78, EL CAPITAN 45 – MARIE COOK cashed in 34 points but her teammates could not keep up as the Vaqueros succumbed to Heritage Christian in Wednesday's (Dec. 30) PREP Division of the SoCal Holiday Prep Classic.
In her last four games Cook has cranked out 105 points and 29 rebounds.
El Capitan:  Marie Cook 39, Elizabeth Giddings 6, Miley Silvas 3, Taylor Fagan 2.
VALHALLA 33, EL CAJON VALLEY 16 – TIANA SILVER led the way for Valhalla with 13 points as the Norsemen upended the Braves in Wednesday's (Dec. 30) FIBA (Gold Division) of the SoCal Holiday Prep Classic.
El Cajon Valley's highest scorer, LEANNA WATSON, sat this one out.
"She pulled a muscle and we've got a game on Friday (Jan. 1) in our New Year's Ball tournament," said Braves coach CARLOS MOSS.
Valhalla:  Tiana Silver 13, Lisa Damman 8, Molly Lindsay 4, Alexa Somo 4, Julianna Qsar 2, Melanie Yousif 2.
El Cajon Valley:  Titishia Clemons 6 (5 reb, 2 stl), Farah Kannan 3 (5 reb, 1 stl), Mary Awadich 3 (4 reb, 2 ast), Sumaya Hameed 2 (9 reb), Rabab Issa-Taba 2 (2 reb, 1 stl), Kaheen Hasan (3 reb, 2 stl), Alejandra Garcia (1 reb).
SANTANA 41, ROCK ACADEMY 37 – Championship, PREP Division of the SoCal Holiday Prep Classic – no report on this championship game. Santana's KOBIE HOLLAND was named to the all tournament team as the Sultans won the tournament.