Fast friends Yakoo, James getting along at Boise State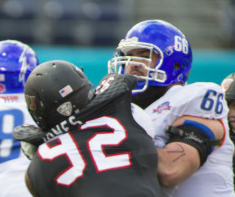 MARIO YAKOO IN THE TRENCHES AGAINST NORTHERN ILLINOIS AT THE POINSETTIA BOWL IN DEC.
2015  4-YEAR COLLEGE FOOTBALL STANDOUTS
By Chadd Cripe 
Courtesy of Idaho Statesman
SAN DIEGO (1-5-16) — Linebacker CHANCELLER JAMES had attended Steele Canyon High for a week or two when he introduced his new friend to his mom. Always wary of the people in her son's life, Karen Johnson looked at the tall, hulking teenager with suspicion.
It didn't help that MARIO YAKOO (a 6-foot-1, 329-pound lineman), as he does now, looked older than he actually was.
"They've been friends ever since," Johnson said. "I wouldn't allow Chanceller to go many places when he was in high school. The only places he really went were somewhere with Mario. They've been together through thick and thin — brothers since they were 15 years old."
James and Yakoo returned to their hometown as redshirt juniors in the Boise State football program.  As expected, they both started — James in the secondary, Yakoo at right tackle — when the Broncos defeated the Northern Illinois Huskies 55-7 in the Poinsettia Bowl on Wednesday (Dec. 23) at Qualcomm Stadium.
"It's big. It's a big accomplishment for us and made us try to make our families proud … Put on a show for our families," said Yakoo, Boise State right tackle on playing in San Diego
James transferred to Steele Canyon as a sophomore after one year at a Christian school that was much farther from his home. He introduced himself to the Cougars former defensive coordinator and now head coach SCOTT LONGERBONE at a passing tournament and asked when practice started.
Longerbone found him a pair of cleats and put him in the game.
"Within 2 minutes of me meeting Chance, he was playing in the tournament we were in," said Longerbone. "Two months later, he was starting for varsity in the opening game."
Only two other sophomores were on varsity that year. One was Yakoo.
They developed into close friends, star players and coaches' favorites. They also competed in track and field — James running sprints, Yakoo chucking the shot put and the duo hanging out between events.
"They're both great kids," Longerbone said. "Those two, they were welcome any time into my office they wanted to come in. They were so much fun to coach.
"They're fun to just hang out with. They can actually hold conversations that aren't juvenile."
James and Yakoo spent the night at each other's houses and all but became part of each other's families. Their moms are close friends, too.
When grades come out, both moms want to know how both boys did — not just their own son.
"They've been best buddies," Johnson said. "I have so many pictures of them together."
When it became clear that both were college prospects, James and Yakoo discussed the idea of playing together in college, too. They set their sights on UCLA.
They attended a Bruins camp.
"I totally sucked at it," James said. "I was terrible. Couldn't do anything."
UCLA offered Yakoo a scholarship but not James. Yakoo accepted, and the dream seemed over.
But when the Bruins endured a coaching change, Yakoo reconsidered his situation. He went to dinner with James and then-Boise State defensive coordinator Pete Kwiatkowski and said he'd like to play for the Broncos.
Boise State offered Yakoo a scholarship less than a week later, but because it was so late in the recruiting process, coaches told him he'd probably have to grayshirt and join the team in January 2013.
A summer injury opened a spot and Yakoo was able to enroll in August 2012 instead, joining James.
"It's always nice that we have each other," said James, who has been through two major knee injuries during his career. "We can always feed off each other and talk to each other any time we have problems."
Said Yakoo: "I love the guy. He's always there whenever I need him. Just a really good friend."
They mesh in part because of their differences. Yakoo is more serious, more of a leader, more fiery. James is more light-hearted.
"He's a great personality," Yakoo said. "He's always got a smile on his face. When it's time to get serious, he gets serious, but when it's going bad, he's got a smile on his face regardless.
"If he gets mad, he's going to make a joke. He's not going to show his anger."
Said James: "Mario's goofy, he's angry and he's hungry. … He gets angry, but I just laugh: 'What are you mad at?' "
The friends have tried to downplay the significance of playing at home at the end of the season but might get a better feel for what it means as they prepared for the game in town.
Yakoo cobbled together 50 tickets for his family and friends with help from teammates, who get six each. His group bought 50 more.
James rounded up 20 tickets from teammates and anticipated a total crowd of about 60.
Johnson hoped the James-and-Yakoo cheering section would reach beyond just people they know well. She and a cousin recorded messages on three radio stations, the pastor at Johnson's church told worshippers about the game, Steele Canyon had a sign expressing support and kids made a sign for a local recreation center.
"It's awesome to be able to come back because I haven't played there yet," said James, who missed the 2013 game at San Diego State with an injury. "I can't get distracted during the game, though, because we're going there to win."
And so they did.
More bowl game notes . . .
By Bill Dickens
© East County Sports.com
EL CAJON (1-5-16) — Former Valhalla High and Grossmont College standout senior wide receiver NICK KURTZ  (6-foot-5, 208 pounds) caught four passes, including a 56-yard scoring strike in BYU's 35-28 loss to Utah in the Royal Purple Las Vegas Bowl. The Cougars overcame a 35-0 first quarter deficit.
— Former Helix High standout JIMMY PRUITT recorded five solo tackles, one assist and one pass breakup as the San Jose State Spartans defeated Georgia State 27-16 in the inaugural Auto Nation Cure Bowl in Orlando, Fla.
— Helix High sophomore alum JALEN DAVIS logged a key interception, and made five tackles – four of them solo – as a defensive back for Utah State in a 23-21 loss to the Akron University Zips in the Idaho Potato Bowl in Boise, Idaho.
Offers on the board . . .
— Dixie State has pitched offers to both Grossmont High wide receiver KHALEED DAVIS and to defensive back ALEX LILLIARD.
— Meanwhile 6-foot, 210-pound defensive lineman DURAN MILLER of Mount Miguel has received an offer from Hastings College, an NAIA outfit in Nebraska.