West Hills defeats Valhalla to continue terrific start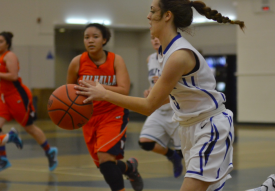 West Hills dribbles up court against Valhalla on Tuesday evening. / EastCountySports.com photo
2015-16 EAST COUNTY PREP GIRLS BASKETBALL
By Bill Dickens
© East County Sports.com
SANTEE (1-6-16) — In a Grossmont Conference game that may have playoff connotations, West Hills smothered Valhalla 43-20 on Tuesday (Jan. 5) in Santee.
The Wolf Pack (11-3) put the game away with a 20-6 spread in the second quarter.
The second half was even more devastating for the Norsemen as the Wolf Pack claimed an 18-8 advantage over the final 16 minutes.
KERRIE DANIELS led the scoring parade for West Hills with 15 points, while MEGAN SCOTT pitched in 12 markers, made 5 rebounds, dished 6 assists and logged 4 steals.
West Hills:  Kerrie Daniels 15 (2 reb, 1 stl), Megan Scott 12 (5 reb, 6 ast, 4 stl), Carly Raley 7 (5 reb, Maya Clemons 6 (5 reb, 2 ast, 3 stl), Megan Scott 4 (5 reb, 6 ast, 4 stl), Alyssa Garcia 4 (1 ast, 1 stl), Vivian Pinella 3 (2 reb, 5 ast, 2 stl, 1 blk), Summer Stewart 2 (6 reb, 1 stl), Clarrisa Holder 2 (3 reb), Jessica Fondes (2 reb), Haley Doucette (1 reb, 1 ast, 2 stl).
Valhalla: (No information provided.)
MONTE VISTA 33, EL CAJON VALLEY 29 – KYRIA WHITLEY poured in 18 points and grabbed 15 rebounds for the Monarchs, while CASSIE CALDERON added 11 points and 12 rebounds as Monte Vista upended El Cajon Valley in a Grossmont Conference game on Tuesday (Jan. 5)
"We couldn't hit anything – I think it just comes down to the fact that we need practice," said Braves coach CARLOS MOSS. "The fact that our court is being worked on has really curtailed our practices."
For El Cajon Valley LEANNA WATSON pitched in 17 points, grabbed 8 rebounds, dished 3 assists and made 5 steals.
"Our girls finally came together as a team," said Monarchs coach MEGAN FORBELL. "We still had one rough quarter as we almost lost our lead in the third, but we were able to pull it together in the fourth by shutting down their top players and offensively controlling the ball and working as a team."
Monte Vista:  Kyria Whitley 18 (15 reb), Cassie Calderon 11 (12 reb), Bethany Mudge 2, Sewit Tesfamicael 2.
El Cajon Valley:  Leanna Watson 17 (8 reb, 3 ast, 5 stl), Mary Awadwich 6 (4 reb, 1 stl), Sumaya Hameed 4 (4 reb, 3 stl), Titishia Clemons 4 (1 ast, 4 stl), Farah Kannan 2 (2 reb, 3 ast), Rabab Issa-Taba (6 reb), Kaheen Hasan (4 reb, 2 stl).
CLAIREMONT 49, CHRISTIAN 45 – MARISSA GILES hammered down 24 points, grabbed 5 rebounds, blocked 2 shots and made one steal in Tuesday's (Jan. 5) Central League opener at Clairemont.
But once again it was not enough to guide the Patriots to the winner's circle.
The teams were tied at 45-all before Clairemont claimed the victory by hitting a field goal and 2 free throws in the stretch run.
Christian was burned from the free throw line as the Chieftains had 24 free throw attempts compared to 8 for the Patriots.
Christian:  Marissa Giles 24 (5 reb, 1 stl, 2 blk), Sage Salacup 6 (2 reb, 2 ast, 1 stl), Jasmyn Crawford 6 (1 reb, 3 stl), Brooke Owens 4 (5 reb, 3 ast, 1 blk), Hayley Robinson 3 (6 reb), Alyssa Rothrock (3 reb, 1 ast, 1 blk).
GRANITE HILLS 53, EL CAPITAN 7 – Granite Hills made things look ugly as the Eagles blunted the Vaqueros in a Sweetwater Holiday Tournament game on Tuesday (Jan. 5).
The Eagles, in an opening round game of the tournament, defeated host Sweetwater 47-26.
The Eagles (5-6) were even more powerful in the latest game as they pummeled Grossmont Conference rival El Capitan 53-7.
It was 33-5 at halftime as RAELLEAH MOORE muscled in 19 points and made 3 steals to go with 6 rebounds against El Capitan.
MICAYELA HERNANDEZ chipped in with 16 points and 5 steals and a rebound in a lopsided win for the Eagles.
For El Capitan, MARIE COOK scored all 7 points.
Granite Hills:  Raelleah Moore 19 (6 reb, 1 blk, 3 stl), Micayela Hernandez 16 (1 reb, 5 stl), Shanice Lacey 6 (5 reb, 1 stl, 1 blk), Emma Kubari 6 (2 reb, 3 ast, 1 stl), Anyang Agoth 2 (2 reb), Miranda Brown 2 (3 reb, 3 ast, 3 stl), Chase Robles 2 (2 reb, 1 ast, 3 stl), Kani Kubari (1 reb, 2 ast, 1 stl), Myriam Lopez (1 reb), Delaney Casey (1 reb, 3 stl).
El Capitan:  Marie Cook 7.
EL CAMINO 72, STEELE CANYON 40 – Perhaps it was the lengthy bus ride to Vista that caused Steele Canyon to stagger out of the gates in Tuesday's (Jan. 5) non-league encounter.
That is, the host Wildcats took a 30-0 first quarter lead – game, set match.
"We got stuck in traffic, the late start, I don't really know," said Cougars coach PETER RUIZ. "We did better in the second half but it was too little too late. They came out firing in the first half. In the second half we made some adjustments and it eventually helped, but no enough. It was kind of hard to dig ourselves out of the first quarter hole."
JULES LOIBL led the Cougars with 13 points.
Steele Canyon:  Jules Loibl 13, Ashley Tavizon 9, Kylie Minshew 7, Marie Estavillo 6, Marianna Martinez 4, Elizabeth Bott 1.