Pointers' press flusters Patriots down stretch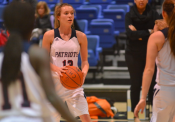 Christian's Marissa Giles sets up a play during the first half against Point Loma Friday night in El Cajon. / Ramon Scott photo
2015-16 EAST COUNTY PREP GIRLS BASKETBALL
By James McHugh
© East County Sports.com
EL CAJON (1-9-16) — The Patriots of Christian High moved to 0-2 in Central League play after dropping a close one 59-54 to visiting Point Loma at the Ryan Athletic Center Friday night (Jan. 8).
MARISSA GILES led the scoring for Christian, pouring home a game high 22 points, grabbing 4 rebounds and making 3 steals.
Second half turnovers did the Patriots in though as Christian turned the ball over nine times in the final frame.
The Patriots trailed 55-50 with two minutes to play. Christian forced a Pointers turnover on a jump ball with 58 seconds to play and appeared to be in business with a chance to narrow the lead.
Unfortunately another turnover doomed Christian's chances late. A bucket and foul with 33.7 to play expanded the Point Loma lead to seven and the teams tied up on another jump ball when the free throw missed, giving the ball back to the Pointers.
Giles was fouled on a three point attempt with 11.8 to play, hitting 2-of-3 shots.
Point Loma was whistled for a technical on the play as well. Giles hit 3-of-5 overall, pulling Christian to within four points with the ball.
On the next possession the Patriots turned it over one more time and a Point Loma layup at the buzzer closed things out .
BROOKE OWENS popped in 15 points, 4 rebounds and 2 steals, while SAGE SALACUP scored 10, grabbed 4 rebounds and made 5 steals.
Not to be overlooked was HAYLEY ROBINSON, who was a beast on the boards with 14 snags.
"We were up by 10 in the 3rd quarter," noted Patriots coach TIFFANY GILES. "They pressed us in the 4th quarter – it was a close game all night. The girls are playing really hard and I'm proud of them."
Christian:  Marissa Giles 22 (4 reb, 3 stl), Brooke Owens 15 (4 reb, 2 stl), Sage Salacup 10 (4 reb, 5 stl), Alyssa Rothrock 4 (6 reb), Hayley Robinson 2 (14 reb).