Cougars prevail over Monarchs in neighborhood drama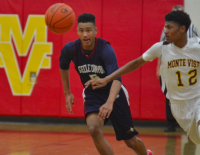 Monte Vista's Bo Rankins and Steele Canyon's Jalen Sayles go for the ball on Friday night. / Eastcountysports.com photo
2015-16 EAST COUNTY PREP BOYS BASKETBALL
By Bill Dickens
© East County Sports.com

SPRING VALLEY (1-9-16) — In a Grossmont Conference crossover contest that featured what is to come in East County basketball, the Steele Canyon Cougars squeezed out a 66-61 victory over the Monte Vista Monarchs on Friday (Jan. 8).
The Cougars prevailed due to a huge advantage at the free throw line where they converted 13 of 24 chances, compared to 7 of 8 for Monte Vista. Check the scorebook.
On the positive side Monte Vista registered 11 blocks, but that did not help the Monarchs down the stretch.
"We really played hard," said Monarchs coach MIKE TULLY as Monte Vista gained a 56-53 lead with 2 minutes left. "We had 'em but we were just gassed."
The key players for the Monarchs in their drive for the victory lane were TRE OWENS and SHAI STEVENSON, who combined to cut Steele Canyon's lead to 62-60 in the waning moments. With the score 62-61 with :45 left, the Cougars made a couple of key steals late to thwart Monte Vista's possessions.
MARCUS WHITE made 2 free throws for Steele Canyon with 15 seconds remaining to make it 64-61 and JAVON NUTTER had a key putback during the drive, but it was GAGE SANDERS hitting 2 free throws to put the game in the Cougars corner.
Both coaches noted a good atmosphere and a near-full house in the Monarch's gym.
"We're happy that we came out on top," said Cougars coach DEREK STEPHENS.
Stevenson rolled a double-double of 10 points, 10 rebounds and 6 assists for Monte Vista.
THOMAS FISHBURNE scored 19 points for the Cougars, who had four players in double digits.
Steele Canyon:  Thomas Fishburne 19, Marcus White 18, Javon Nutter 12, Gage Sanders 10, Nick Hodge 7.
Monte Vista:  Bo Rankins 16 (8 reb, 2 ast, 1 blk), Tre Owens 15 (2 reb, 5 ast, 2 stl, 2 blk), Shai Stevenson 10 (10 reb, 6 ast, 2 stl, 2 blk), Deondre McHayle 8 (11 reb, 3 ast, 1 stl, 2 blk), Terry Bone 8 (5 reb, 2 ast, 2 stl, 4 blk), Adrian Bass 4 (2 reb, 1 stl).