'Uncle Mo' resides with Valhalla for now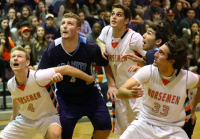 2015-16 EAST COUNTY PREP BOYS BASKETBALL
By Bill Dickens
© East County Sports.com

EL CAJON (1-9-16) — The Valhalla Norsemen and Granite Hills Eagles played somersaults in Friday (Jan. 8) night's Grossmont Conference crossover contest in front of a near capacity crowd at Valhalla.
It was a topsy-turvy affair as the Eagles took a 20-2 first quarter lead with less than two minutes left in the period.
After that the game belonged to Valhalla. The Norsemen unloaded for 19 second quarter points, allowing Granite Hills to escape with a 25-23 halftime lead.
COLE HENDERSON and NATHAN YOUSIF led the second half comeback for Valhalla. Henderson poured in 17 points and Yousif scored all his points after intermission as the Norsemen turned around a 58-47 victory over the Eagles.
"When I shoot a 3-pointer I can feel it," said Henderson who netted 4 of 7 chances from long distance. "In the first half we couldn't get anything to fall, but I knew if we kept shooting, things would go our way."
Henderson talked about Granite Hills' defense.
"They tried to cheat off their screens, and so do we," he said. "And that opened the door for us."
Yousif, a 5-foot-11 senior guard was scoreless in the first half, but unloaded for 15 points in the second. He also grabbed 10 rebounds.
"I felt like I had to take things into my hands," Yousif said. "When we play unselfish we are an excellent team. We have the energy to go a long ways."
Valhalla coach KEITH JACKSON was pleased by the Norsemen's come from behind finish.
"We have a lot of experienced players, and we need to take advantage of that," he said. "I'm not sure of the last time that I've been down by 18 points, but I knew our seniors could turn it around, and we were able to do that."
Valhalla was ticketed for a championship game against San Ysidro on Saturday (Jan. 9) but the players involved had made major expenses to attend the Norsemen's Winter Formal, so the decision was made to postpone the game.
The teams will play again down the road.

Valhalla:  Cole Henderson 17 (7 reb, 4 ast, 2 stl, 1 blk), Nathan Yousif 15 (10 reb, 1 ast), Jordan Ellis 14 (2 reb, 3 stl), John Murad 11 (3 reb, 1 ast), Matthew Sako 2 (5 reb, 1 stl), Daniel Bender (4 reb, 2 blk), Trey Schimke (4 reb).
Granite Hills:  Ryan Kelly 15 (5 reb, 5 ast, 1 stl), Darien Cossio 12 (4 reb, 3 ast, 2 stl), Cameron Spitzer 8 (7 reb, 2 ast), David Setterberg 6 (6 reb, 1 ast), Jacob Burton 4 (4 reb, 1 stl), Dylan Garcia 2 (4 reb), Mario Mezo (1 reb, 1 blk).