Wolf Pack send Sultans back down Mast with loss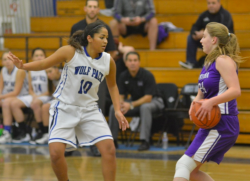 EASTCOUNTYSPORTS.COM photo
2015-16 EAST COUNTY PREP GIRLS BASKETBALL
By Adam Paul
© East County Sports.com
SANTEE (1-9-16) — In the girls' version of the Battle of Santee, the West Hills Wolf Pack never looked back on their way to a 52-23 victory over the visiting crosstown rival Santana Sultans, Friday (Jan 8).
The Wolf Pack jumped all over the Sultans in the first quarter 13-0 and didn't allow the Sultans to score their first basket until 2:20 remained in the quarter. Despite a slow start the Sultans managed to get back into the contest as they were able to use a 7-0 run to get within 24-12 at the half.
The second half was a little different as West Hills came out storming offensively and pushed their lead to 39-16 thanks to outscoring the Sultans 15-4 in the third period. In the fourth stanza the Sultans managed to close the period scoring gap but by that time the contest was already decided.
West Hills was powered by the duo of CARLY RALEY who scored 12 points and her partner MEGAN SCOTT who punched in 10.
West Hills:  Carly Raley 12 (2 reb, 3 ast, 1 stl, 1 blk), Megan Scott 10 (5 reb, 4 ast, 5 stl), Maya Clemons 9 (4 reb, 1 ast, 4 stl), Vivian Panella 7 (4 reb, 4 ast, 5 stl), Kerrie Daniels 4 (4 reb, 1 ast, 4 stl, 1 blk), Jessica Fondes 4, Alyssa Garcia 2 (3 reb, 1 stl), Summer Stewart 2 (2 reb, 1 ast), Haley Doucette 2 (2 reb, 1 stl), Clarrisa Holder (2 reb, 3 stl).
Santana:  (No information provided.)
STEELE CANYON 43, MONTE VISTA 29 – The Cougars of Steele Canyon pushed their record to (9-4) with the 43-29 victory over the home team, Monte Vista, Friday (Jan 8th).
Right out of the gate in the first quarter, the Cougars roared out to a 15-2 lead in which ASHLEY TAVIZON scored 8 of her 17 points, it wasn't just offensively the Cougars pounced but on the defensive end they forced the Monarchs into 9 turnovers.  The second quarter was more of the same as the Cougars outscored the Monarchs 10-4 to lead 27-12 at the break.
The third quarter was a little different as Monte Vista was able to amount a small comeback as they outscored the Cougars 11-8, including a 9-2 run that brought them within 29-21. However Steele Canyon was able to right the ship and pull away the rest of the contest.
"We took care of business which will help us in preparation for league." Said Cougar head coach PETER RUIZ.
Indeed the Cougars took care of business as they clamped down in the final quarter 8-6.
Steele Canyon: Ashley Tavizon 17 (8 stls), Jules Loibl 7 (6 reb, 5 stl), Marie Estavillo 7, Mariah Smith 4, Reagan Jordan 4, Kylie Minshew 2, Marianna Martinez 4
Monte Vista:  (No information provided.)