Eagles take winding road, end up with win at Valhalla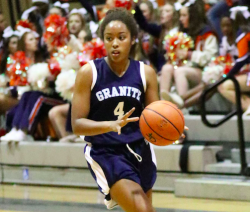 Don De Mars photo
2015-16 EAST COUNTY PREP GIRLS BASKETBALL
By  Bill Dickens
© East County Sports.com
EL CAJON (1-9-16) – The visiting Granite Hills Eagles racehorsed past Valhalla 22-9 in the first half of Friday's (Jan. 8) Grossmont Conference game, but the visiting Eagles would take a circuitous route to finally get to a 43-26 win.
The Norsemen came fighting back in the 3rd quarter, outscoring the Eagles 13-2 over the first four minutes of the period. That left the Eagles clinging to a 24-22 advantage. At that point Granite Hills put the brakes on the Norsemen.
A 6-point scoring spree by MICAYELA HERNANDEZ helped the Eagles regain control and Granite Hills led 31-23 by halftime.
Granite Hills continued to pull away on baskets by RAELLEAH MOORE and EMMA KUBARI to lead 36-23.
TIANA SILVER knocked down 2 free throws for Valhalla (6-5), but the Norsemen's offense could never get in gear thereafter.
Granite Hills (7-6) outscored Valhalla 7-1 down the stretch.
Moore led the Eagles with 16 points, while Hernandez pitched in 10.
Lindsay paced Valhalla with 12 points.
"We turned this game around because we had some solid senior leadership," said Eagles coach CURTIS NORWOOD. "DELANEY CASEY rallied our girls both on the floor and with her energy. She made it clear that we're playing games now that we need to win."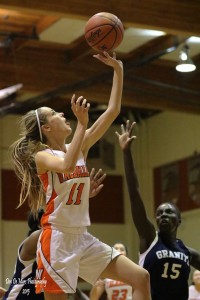 Granite Hills:  Raelleah Moore 16 (4 reb, 4 stl), Micayela Hernandez 10 (2 reb, 3 ast, 2 stl), Delaney Casey 7 (4 reb, 1 stl), Emma Kubari 7 (3 reb, 1 stl, 1 blk), Kani Kubari 3 (6 reb, 3 stl, 2 blk), Miranda Brown (2 reb), Shanice Lacey (1 reb).
Valhalla:  Molly Lindsay 12, Tiana Silver 9, Bianca Gorges 2, Lisa Damman 2, Julianna Qsar 1.