Griffins win Spiller's last event as Grossmont AD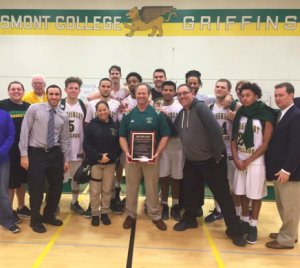 Jim Spillers is honored by the Grossmont College men's basketball team following their victory Friday night.
2015-16 COMMUNITY COLLEGE MEN'S BASKETBALL
By James McHugh
© East County Sports.com
EL CAJON (1-15-16) – The Grossmont College Griffins sent outgoing Athletic Director Jim Spillers off in style Friday night (Jan. 15), capturing a 62-51 victory over Cuyamaca College in Spillers' final contest at the helm of Grossmont's athletic department.
Grossmont didn't start the night on fire from the floor, hitting just under 38 percent of their shots in the first half against the visiting Coyotes. Thankfully for the Griffins the Coyotes only found the net on 33 percent of their first half attempts.
Early on Cuyamaca looked like they might run away with their second victory of the season, leading by as many as 10 points less than half way through the opening half. Grossmont did not panic however, playing at a steady pace and slowly building back from their deficit. By the time DANIEL McCOWN scored the last seven points of the first half for the Griffins, Grossmont held a three point lead 27-24.
"We didn't really make a lot of adjustments there at the end of the half offensively, basically we were just trying to get better shots off," said assistant coach KEVIN BUTTY after the game. "We weren't shooting well early but part of that was just shot selection. Once we started getting that extra pass in, getting that better look, things started to go our way."
CORWIN FEERICK had an outstanding night offensively for the Griffins, finishing with 21 points, including two three-pointers. Feerick was 7-13 from the floor and grabbed eight rebounds as well.
After McCown's seven points closed out the first half, former West Hills guard CHASE PARSONS reeled off a 7-0 run of his own for the Coyotes to start the second half. KAELEN MITCHELL quietly put together a double-double for Grossmont, connecting on just 5-16 from the floor for 14 points, however Mitchell's presence on the glass was a key factor for the Griffins as he pulled down 12 rebounds.
REMY LAWYER also quietly spread 10-points out over the course of the night, connecting on each of his four attempts from the free throw line in the second half as Grossmont grew their lead to as many as 14-points.
The Griffins saw great defensive efforts from MARCOS MEZA who nabbed three errant Cuyamaca passes on the night in addition to forcing other Coyotes turnovers. Mitchell and Feerick each clogged up the middle, altering a number of Coyotes drives and forcing kickouts for long range shots that simply weren't falling. The Griffins held Cuyamaca to 5-18 shooting from beyond the arc on their way to the win.