Hawks continue struggle in conference play, remain winless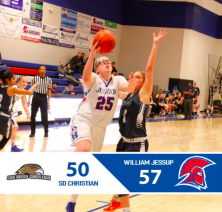 Special to EastCountySports.com
ROCKLIN – The San Diego Christian College women's basketball team not only equaled an unsightly school record for ineptitude, they completed the "feat" twice.
On Saturday (Jan. 16), the Hawks were not only limited to a mere five points in the second quarter against William Hessup College, the visitors from Santee came out of the halftime locker room and repeated with another 5-point effort in the third quarter in what became a 57-50 setback to the Warriors.
San Diego Christian, which posted a respectable 5-3 record in non-Golden State Athletic Conference contests, is now in the GSAC cellar at 0-6. William Jessup is now 13-4 overall; 4-2 in GSAC play.
Senior guard Berika Egberuare scored a game-high 18 points but it wasn't enough for the Hawks.
It was the Hawks defense which couldn't get rolling early, allowing the opening eight points for a early deficit., yet rallied to claim a 13-11 advantage by the end of the first period thanks to a pair of Egberuare triples and a short jumper by Whitney Braeutigam.
Then the Warriors defense took over, retaking the lead 23-18 at the intermission, then utilizing an 18-5 advantage in the third quarter to pull away.
San Diego Christian moves into a 10-day break, not returning to action until Jan. 26 when they meet Biola in La Mirada.