Hawks shoot 29 percent, improve to 3-0
Updated: November 9, 2018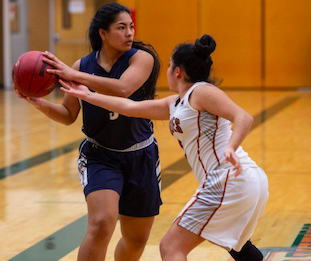 San Diego Christian has possession against Walla Walla on Friday night.
2018 SAN DIEGO CHRISTIAN HAWKS WOMEN'S BASKETBALL
Courtesy, SDCC media relations
WALLA WALLA, Wash. (11-01-2018) — The San Diego Christian College women's basketball team shot a season-low 28.6 percent from the floor but that didn't stop them from winning their third straight game to start the season, downing host Walla Walla University, 55-40, Friday night (Nov. 9). The 3-0 start is the Hawks' best since the 2016 season.
Junior forward Henriette Gahmig (Giessen, Germany), a transfer from Azusa Pacific, scored a team-high 11 points on 4-of-13 shooting. Senior guard Kaitlyn McKinney was next with 10 points. However, defense was the key as SDC forced a season-high 19 turnovers in the wire-to-wire win.
Gahmig got the Hawks on the board first with a triple off a Shayleen Toehe (Flagstaff, Ariz.) pass for the 3-0 lead. SDC led by as much as seven in the first after McKinney hit a jumper with 1:43 remaining in the quarter.
Dayna Hansen's jumper with 3:45 gave SDC a 9-point lead in the second. Stacy Hock added a jumper for an 11-point cushion before Hansen added two free throws giving the Hawks a 13-point lead heading into the break. McKinney hit another layup, this time with 2:11 left in the game to give SDC their largest lead of the game at 21 points.

For the Wolves (0-3), guard Carolina Montes (Chihuahua, Mexico) scored a game-best 13 points. The  
teams will face off again on Saturday