Hawks stumble at Jessup, fall to 2-4 in GSAC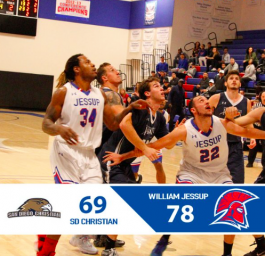 Special to EastCountySports.com
Senior point guard Dalante Dunklin (Francis Parker HS/Metro State Denver) scored a team-high 19 points and three other Hawks were in double figures but SDC fell to William Jessup in the second game of the GSAC doubleheader.
Trevor English added 13 points while Mark Eden and Nathan Klekas tallied 11 and 10 respectively.
The Hawks fall to 9-7 overall and 2-4 in GSAC play. Davis Clement scored 21 points for the Warriors (12-5 overall; 4-2 GSAC).
San Diego Christian's men also head into a 10-day break to play Biola, then play 5-of-6 at the team's historical home at Grossmont College.
Final
1
2
F
San Diego Christian 9-7, 2-4
31
38
69
William Jessup 12-5, 4-2
33
45
78
Jan. 16, 2016
Rocklin, CA
Attendance: 180
| San Diego Christian | Indv. Leaders | William Jessup |
| --- | --- | --- |
| #05 Dalante Dunklin – 19 | Points | #22 Darius Clement – 21 |
| 2 Players (#01,#25) – 7 | Rebounds | #34 Andre Smith – 12 |
| #05 Dalante Dunklin – 4 | Assists | #01 Saajid Polite – 4 |
| San Diego Christian | Team Statistics | William Jessup |
| --- | --- | --- |
| 36.4% (24 – 66) | Field Goals % | 48.3% (28 – 58) |
| 28.1% (9 – 32) | 3 Point Field Goals % | 27.3% (3 – 11) |
| 54.5% (12 – 22) | Free Throws | 65.5% (19 – 29) |
| 38 | Rebounds | 47 |
| 12 | Assists | 10 |
| 11 | Turnovers | 13 |
| 15 | 2nd Chance Pts | 16 |