Full-strength Matadors at full speed in win over Eastlake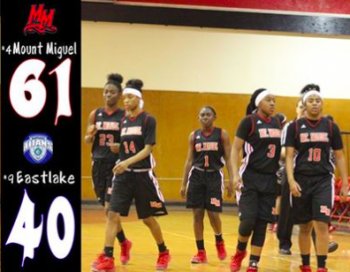 2015-16 EAST COUNTY PREP GIRLS BASKETBALL
By Bill Dickens
© East County Sports.com
SPRING VALLEY (1-17-16) — The Mount Miguel Matadors avenged an earlier overtime loss to Eastlake in Saturday's (Jan. 16) MLK Hoopfest by rolling to a 61-40 victory over the Titans.
The first time these two teams met Eastlake prevailed 37-35.
"We were missing some players when we played them the first time," noted Matadors coach ROBBIE SANDOVAL. He was referring primarily to SATERA BATES, who averages 17.5 ppg, and was sidelined at the time with an ankle sprain.
"Our energy level was great and we executed what we wanted to do," added Sandoval.
Bates finished the rematch with 16 points and 4 steals.
The Matadors jumped on the Titans 32-12 in the first quarter. For those who want to calculate it, that's one point per minute for a complete game for Mount Miguel.
In the pending blowout DESTINI ANDERSON scored 15 of her 19 points in the opening minutes, while LAILA SMITH tallied 9 of her 12 points in the opening frame. Anderson, who is averaging 16.3 ppg, hit one three and 4-for-4 at the free throw line, grabbed 2 rebounds and recorded 5 steals during the contest.
CAMARA DOUGLAS and ROZLYN PIERCE each grabbed 7 boards as the Matadors went into cruise control.
Next up for Mount Miguel (13-4) is the MLK Showdown on Monday (Jan. 18) at Horizon when the Matadors take on Vista Murrieta (15-2) at 4:30.
Other East County teams participating in the Showdown are Helix (3-10) vs. Middle College of L.A. (12-9) at Noon, Granite Hills (9-8) vs. Mater Dei Catholic (8-6) at 1:30, Grossmont (14-4) vs. Sweetwater (5-8) at 3.
Mount Miguel:  Destini Anderson 19 (2 reb, 5 stl), Satera Bates 16 (1 reb, 1 ast, 4 stl), Laila Smith 12 (2 reb, 2 ast, 3 stl), Camara Douglas 5 (7 reb, 1 stl, 1 blk), Rozlyn Pierce 3 (7 reb), Amber Hard 2 (3 reb, 1 ast, 1 stl), Tiaja Bennett 2 (2 stl), Michelle Corley 2 (1 reb, 1 stl).
MATER DEI CATHOLIC 46, WEST HILLS 45 – After winning seven straight the Wolf Pack suffered a narrow defeat to Mater Dei in Saturday's (Jan. 16) MLK Hoopfest at Mount Miguel.
It was the second straight loss for West Hills (13-5).
CARLY RALEY led the charge for the Wolf Pack with 15 points and 6 rebounds.
The Pack led 16-12 after one quarter but fell behind 30-29 by the break. West Hills tied the game in the third quarter at 36-all.
The game was decided in the waning minutes of the fourth quarter as the Pack fell behind by one point to suffer the frustrating setback.
MAYA CLEMONS led West Hills' supporting cast with 11 points and 5 rebounds, while MEGAN SCOTT tugged down 9 boards to go with 5 points and dished 4 assists.
West Hills:  Carly Raley 15 (6 reb, 1 ast, 1 stl), Maya Clemons 11 (5 reb, 1 stl), Vivian Panela 6 (6 reb, 3 ast, 2 stl, 1 blk), Megan Scott 5 (9 reb, 4 ast, 1 stl), Kerrie Daniels 4 (5 reb, 2 ast), Jessica Fondes 3 (3 reb, 1 ast, 1 stl), Clarrisa Holder 1 (1 ast).
BISHOP'S 68, GRANITE HILLS 25 – Destiny Littleton scored 35 points to lead Bishop's to a lopsided victory over Granite Hills in Saturday's (Jan. 16) MLK Hoopfest at Mount Miguel.
Granite Hills:  Scoring not available.
HILLTOP 53, MONTE VISTA 8 – The Monarchs suffered their fourth straight loss and were limited to a season low scoring total in Saturday morning's (Jan. 16) MLK Hoopfest at Mount Miguel.
Monte Vista:  Scoring not available.
VALHALLA at CORONADO – No report for this non-league game.