Bull Run: Matadors pull away from Pack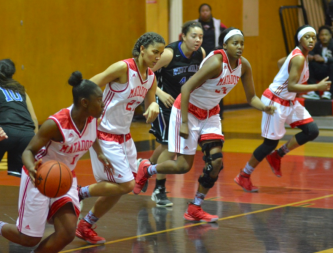 Mount Miguel moves up the court during the second half Friday night against West Hills.
2015-16 EAST COUNTY PREP GIRLS BASKETBALL
By Bill Dickens
© East County Sports.com
SPRING VALLEY (1-16-16) — In the battle of arguably the best two teams in East County girls basketball, the Mount Miguel Matadors outlasted visiting West Hills in Friday nights (Jan. 15) Grossmont Hills League opener.
This was a struggle from the get go as the two teams switched leads at least five times before Mount Miguel claimed a 47-38 victory.
Trailing 39-38 the Wolf Pack made a charge for a come from behind victory. That effort fell short as Mount Miguel buried the Pack from the free throw line.
Mount Miguel's DESTINI ANDERSON scored the first 6 points in the fourth quarter to propel the Matadors into a 43-37 lead before fouling out.
Three players were dismissed early on personal fouls. Besides Anderson, SATERA BATES was excused early as was West Hills' CARLY RALEY. All things considered West Hills suffered the biggest blow as Raley left the middle of the Wolf Pack lineup prematurely.
Anderson put away the Pack by scoring 6 of her 12 points in the final period, including 4 clutch free throws.
"It was a closely called game, there's no doubt about that," Anderson said. "But we came out here tonight to make a statement and I think we did."
AMBER HARD led the supporting cast for Mount Miguel with 10 points and 7 rebounds.
It was a frustrating loss for West Hills, which collected 11 points and 8 rebounds from MEGAN SCOTT.
Mount Miguel:  Destini Anderson 12 (6 reb, 1 ast, 3 stl), Amber Hard 10 (7 reb, 1 ast, 2 stl), Satera Bates 9 (4 reb, 1 ast, 2 stl), Laila Smith 7 (1 reb, 3 ast, 3 stl), Camara Douglas 6 (4 reb, 1 stl), Rozlyn Pierce 2 (5 reb, 1 ast, 1 stl, 1 blk), Michelle Corley 1 (1 reb).
West Hills:  Megan Scott 11 (8 reb, 1 stl, 1 blk), Kerrie Daniels 8 (5 reb), Carly Raley 7 (6 reb, 2 ast), Vivian Panela 8 (3 reb, 3 ast, 2 stl), Summer Stewart (1 reb), Jessica Fondes (3 reb, 2 ast), Maya Clemons 4 (6 reb).