Highlanders hold off host Conquistadors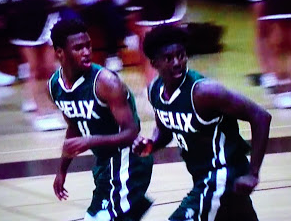 Jaylen Arnold (43) and Justin Flisher (41) get back on defense following a basket Tuesday night at Serra High.
2015-16 EAST COUNTY PREP BOYS BASKETBALL
By Bill Dickens
© East County Sports.com
SAN DIEGO  (1-20-16) — Football player JAYLEN ARNOLD found his basketball legs as he poured in 19 points and snared 17 rebounds for the visiting Helix Highlanders who slipped past host Serra 53-51 in Tuesday's (Jan. 19) non-league game while compiling his double-double.
Arnold struggled from the field where he netted only 6 of 18 shots. He did better from the charity stripe, netting 6 of 10 free throws. He also dealt 5 assists, notched 2 steals and swatted 2 shots.
"He's a football player who is only going to get better," Helix coach JOHN SINGER said of Arnold. "It's tough when you have four football kids coming out a month into the season."
Helix (12-7), which has won 10 of its last 11 encounters, built up an early 10-point lead. The Highlanders led by 10 entering the fourth period, but wound up scrambling to hang onto the lead.
Helix will open Grossmont Hills League play on Friday (Jan. 22) when the Highlanders host defending champion and preseason favorite Grossmont at 7 p.m. on the Scotties' court.
Helix:  Jaylen Arnold 19 (17 reb, 5 ast, 2 stl, 2 blk), Justin Flisher 10 (7 reb, 2 ast), Malik Tambwe 7 (7 reb, 1 ast, 1 stl, 2 blk), Carson Baker 6 (5 reb, 1 stl, 1 blk), Amari Green 4 (1 reb, 4 ast, 3 stl), Dylan Lee 4 (2 reb), Jamar Wynn 3 (1 reb, 2 ast), Isaiah Wooden (1 reb).