Foothills snaps another winning streak
Updated: January 21, 2016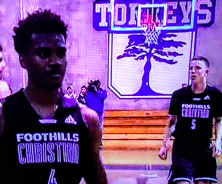 2015-16 EAST COUNTY PREP BOYS BASKETBALL
By James McHugh
© East County Sports.com
LA JOLLA (1-21-16) – Foothills Christian firmly established the pecking order in the Coastal League Wednesday night (Jan. 20), downing previously undefeated La Jolla Country Day 68-42. While there were few in doubt of who the top team in the Coastal was, there was still respect to be paid for Country Day's 17-0 start this season.
The Knights had clearly played the tougher schedule, topping more formidable opponents on their way to an 11-3 record entering play Wednesday night on the Torrey's home court. That scheduling showed early as a lackluster shooting performance by La Jolla Country Day left the Torrey's wondering what to do with the multi-level offense attack of the Knights.
The Torrey's did a decent job of challenging Foothills Christian senior forward T.J. LEAF at the rim, Leaf still managed 19-points on 6-10 shooting to go along with nine rebounds and three assists, An otherwise outstanding night for most senior players.
JORDAN VAN OMMERING grabbed 14-rebounds for the Knights, a career high that probably rendered most Country Day game plans useless. If figuring out Leaf in the middle and what to do with a Knights outside shooter racking up rebounds wasn't enough for Country Day, the other Knights showed up to play as well.
NIKKO PARANADA was a game time decision after suffering an ankle injury in his last outing at the HoopHall Classic over the weekend. The senior guard played three quarters, dishing nine assist and two perfectly timed alley-oops to OMAJAE SMITH. Smith had 15-points for the Knights on 7-10 shooting from the floor, including connecting on his lone three point attempt.
Alex Cho was the only Torrey able to manage a double digit point total on the night with 11-points, the last two coming by way of late fourth quarter free throws.
"We have some guys banged up, so to be able to go in and impose our will with guys injured says a lot about the toughness of our group," said assistant coach TROY LEAF after the win. "It wasn't pretty but we made an 18-0 team look sub-par tonight. And La Jolla Country Day is a really good basketball team."
The Knights defense had nine blocks on the night, five from Leaf, and forced 13 Torrey's turnovers, many of those when Country Day was trying to find any kind of offense they could get in the paint. LUIS SALGADO had 14-points for Foothills and landed two long rangers to up his CIF career record total to 289. Salgado also joined in the rebound parade with seven boards and blocked a pair of shots for good measure.
The Knights next face Bishop's this Saturday night (Jan. 23) at 7:00 P.M. at Cuyamaca College.
Foothills Christian:  T.J. Leaf 19 (9 reb, 5 blk, 3 ast), Omajae Smith 15 (6 reb, 2 ast, 1 stl), Luis Salgado 14 (7 reb, 2 blk, 1 stl), Jordan Van Ommering 7 (14 reb, 1 ast, 1 blk, 1 stl), Nikko Paranada 6 (9 ast, 2 reb, 1 stl), Kale Baldado 4 (4 reb, 1 stl), Connor George 2, Jordan Starr 1 (4 reb, 1 ast), T. J. Lowery (2 reb, 1 blk).