Matadors get Coaches vs. Cancer win over Sweetwater
Updated: January 24, 2016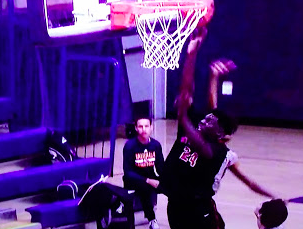 2015-16 EAST COUNTY PREP BOYS BASKETBALL
By Bill Dickens
© East County Sports.com
NATIONAL CITY (1-24-16) — Having lost three of its last six starts, the Mount Miguel Matadors find themselves in last place in the Grossmont Valley League race.
But coach JAY ROWLETT has not given up on his team and was pleased when the Matadors slipped past Sweetwater 63-57 in a Coaches vs. Cancer contest at Montgomery.
"The way I see it, to win our league the champion will be something like 7-3 or 8-2," said Rowlett. "So we need to get back on track.
"This was a key win for us today against Sweetwater after Friday night's loss to Monte Vista."
Four Matadors reached double scoring digits led by DARIAN NORWOOD's double-double of 18 points and 11 rebounds.
TREVON ALLEN pitched in with 11 points and 5 rebounds, while MARQUIS NEAL hit a trio of treys to finish with 11, as did TAJ TUCKER, who also hit 3 triples to total 11 for the game.
Mount Miguel hit 9 three-pointers in the victory. All of CHRIS THOMPSON's 9 points came from long range.
Mount Miguel hosts GVL-leading El Cajon Valley on Tuesday (Jan. 26) at 6 p.m.
"That's a must-win for us," Rowlett said.
Mount Miguel:  Darian Norwood 18 (11 reb, 3 stl), Trevon Allen 11 (5 reb, 1 ast, 1 stl), Taj Tucker 11 (2 reb, 4 ast), Marquis Neal 11 (1 reb, 1 ast, 1 stl), Chris Thompson 9 (1 reb, 2 stl), Trannell Hudson 4 (2 reb), Devon Brown 2 (5 reb), Andre Cox (3 stl).

EL CAPITAN 50, CALIFORNIA MILITARY INSTITUTE 47 – In the second game of the day the El Capitan Vaquero boys took on the California Military Institute from Perris, California in the Steve Albers Memorial Shootout at West Hills. The contest came down to the last possession but El Capitan was able to pull out the contest 50-47.
The first half was a battle back and forth as both teams had their opportunities. The first quarter was slow as it was only 7-4 in favor of the Vaqueros. The second quarter picked up as both teams reached double digits, this time in favor of CMI 18-14 and also a 22-21 lead at the half.
It was more of the same in the second half as both teams went back and forth. El Capitan led by BRYANT IRVIN who gunned 20 points including 6 treys and also JACOB LOPEZ who canned 9 points on 3s from long range. On the glass it was DOMINIC IUDICIANI who corralled 12 boards to go with his 7 points.
El Capitan was able to take the lead for good in the final minute as CMI turned the ball over for the victory seal.
The original prognosis for high-scoring long ranger KADE KYGAR proved not to be as serious as first thought. Turns out his thumb was jammed rather than broken.
El Capitan:  Bryant Irvin 20 (5 reb, 1 ast, 1 stl), Jacob Lopez 9 (2 reb, 1 stl), Dominic Iudiciani 9 (12 reb, 5 ast, 2 blk), Carson Tabor 2 (10 reb, 2 ast, 1 stl, 1 blk), Devin Dulay 5 (4 reb, 1 ast, 1 stl), Danny Estrada 2 (5 reb, 2 ast, 2 stl).
— Adam Paul
EASTLAKE 71, STEELE CANYON 56 – Steele Canyon coach DEREK STEPHENS can't remember the last time his Cougars have given up as many points as they have this season.
Case in point, the Cougars gave up 26 points to the Titans in the second quarter and 22 in the fourth as Steele Canyon fell below the .500 mark at 5-11 in a Coaches vs. Cancer game at Montgomery.
"Eastlake is probably the smallest team we've played this season," said Stephens, who is in his eighth year at the Cougars helm. "Yet they play an aggressive zone and we couldn't hit anything."
Steele Canyon's problems run deeper as far as Stephens, is concerned.
"Like I've said before, our seniors are selfish and blame the underclassmen for things that don't go right," he said. "It's like half the guys don't seem to care. In this game we played without energy, couldn't make a layup, couldn't get any rebounds and were just plain flat."
GAGE SANDERS hit 4 treys (all in the second half) and finished with a team best 14 points.
Steele Canyon:  Gage Sanders 14, Javon Nutter 13, Thomas Fishburne 11, Nick Barns 7, Kyree Woods 4, Marcus White 2, Eric Villegas 2, Jalen Sayles 1.
SAN YSIDRO 77, VALHALLA 72 – The erratic Valhalla Norsemen (13-7) showed no signs of defense in Saturday's (Jan. 23) Coaches vs. Cancer contest at Montgomery.
Thus, they blew another superb offensive effort.
"When you turn the ball over consistently, it's gonna come back and bite you," said Norsemen assistant coach DON ROLLINS.
COLE HENDERSON led the Norsemen's offensive charge with 21 points, 14 rebounds and 9 blocks. He also buried four 3-pointers.
MATTHEW SAKO punched in 18 points and crashed the boards for 7 rebounds.
JOHN MURAD flipped in 12 points, snared 6 rebounds, while NATHAN YOUSIF hit 3 triples to finish with 11 points, 7 rebounds and 4 assists.
Valhalla:  Cole Henderson 21 (14 reb, 1 ast, 9 blk), Matthew Sako 18 (7 reb, 4 ast, 4 stl), John Murad 12 (6 reb, 2 ast, 1 blk, 3 stl), Nathan Yousif 11 (7 reb, 4 ast, 1 stl), Trey Schimke 4 (1 reb, 1 ast), Kai Komaki 3 (3 ast), Jordan Ellis 3 (2 ast), Ty Schimke (1 reb, 1 ast).
MONTGOMERY 62, EL CAJON VALLEY 44 – The El Cajon Valley Braves were feeling pretty good following their back-to-back victories over Santana and El Capitan, so they were somewhat giddy and confident as they took the floor at Montgomery in a Coaches vs. Cancer contest Saturday (Jan. 23).
That feeling didn't hold up however, as Montgomery spanked the Braves soundly in all but one quarter of the game. The Braves prevailed 16-13 over the Aztecs in the second quarter but that was the only time.
"It was awful – the worst loss we've suffered all year," recalled Braves coach SCOTTY JAMES. "We went into the game so over confident and arrogant it was embarrassing. We've had a little success this year, but the guys were joking around on the bus, goofing off.
"(Montgomery) didn't have a kid over 6-feet but we missed so many opportunities there. Our guard play was bad today, way too many turnovers."
RONNE READUS paced the Braves with a double-double of 14 points and 13 rebounds to go along with 5 blocks. JEREMIAH DAVIS contributed 12 points and 6 rebounds.
El Cajon Valley:  Ronne Readus 14 (13 reb, 5 blk), Jeremiah Davis 12 (6 reb), Dmir Witherspoon 9 (4 reb), Ahmad Sulyman 7 (2 reb), Hasan Alhasan 2 (1 reb), Ali Alsawafi (1 reb, 1 stl), Hussein Al-anezi (1 reb).